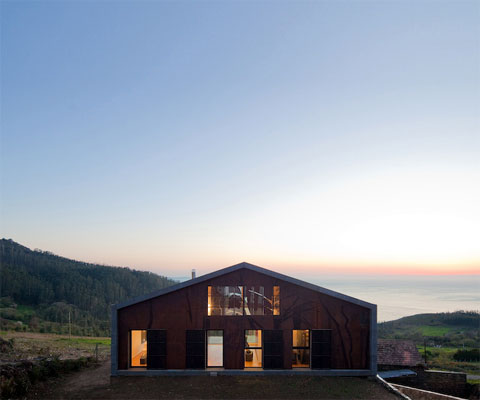 Can nature be prefabricated? To make this tricky question more clear, check out this modular prefab house in Cedeira, Spain. This exquisite residence is positioned on a steep hill, in a zone dominated by the magnificent company of the ocean and a forest of eucalyptus trees.
The volume of the house is inspired by the harvest countryside, family farms and also by pitched roof houses. All is green and irradiates the tender nature's breeze…In a brilliant design option, the concept of this unique building respects these site qualities.
Six prefab modules compose the house (6 meters in length and 3 in width) organizing the program in the following order: the first module contains the bedroom, which can be divided in two; the second have the bathroom and staircase; the third module assembles the kitchen facilities and the last three configure the open living room.
The upper level houses an attic that works as a free-flowing space with a double facade that opens up to the sea at one end and to the forest at the opposite one.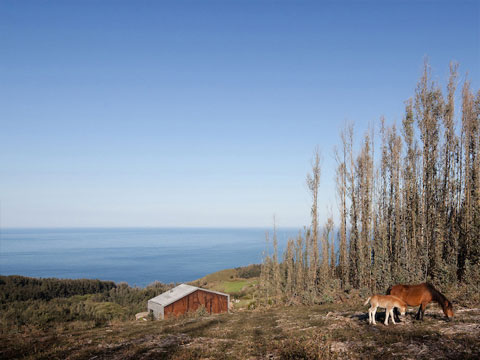 However, the answer for the tricky question is yet to be revealed in the material solutions chosen for this innovative building! The roof and side facades were covered with viroc, a prefabricated combination of cement and wood shavings. The remaining facades were clad with perforated Corten plates following the schematized representation of a forest silhouette…
This interaction between the natural and the artificial benefits the interior atmosphere, where the light that crosses through these silhouettes spreads shadows of trees throughout all living spaces… A fresh and inspirational answer to my initial question, isn't it?