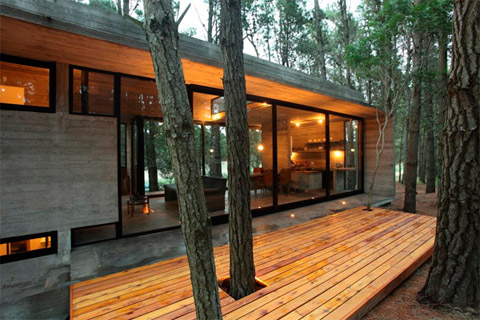 If I told you about a concrete summer house in Bueno Aires, Argentina, built on a dune surrounded by pine trees, with an extensive glazing front and back facades to take in the views… Would you believe it? Casa Cher is not a fantasy…
The 105 sq.m. program is carefully distributed in two levels: the ground floor and a basement level with two bedrooms and a bathroom facing an interior patio. The main level is composed by social areas – kitchen, living and dining room – generously open into the endless pine forest and also a master bedroom with bathroom positioned at mid-height level.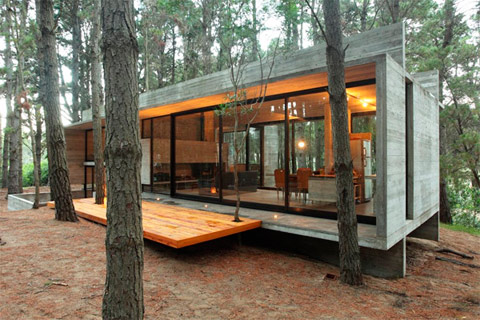 An exterior staircase provides access to the basement floor positioned close to the main terrace that leads to the front door. Exposed concrete is fully explored in this summer house: its raw texture and color seems to blend wisely within the surrounding context. Walls and ceilings – both interior and exterior surfaces – respect this peculiar decision giving a mineral rocky appearance to the entire building. Only the wood flooring along with the glass openings interrupt the supremacy of such a heavy material.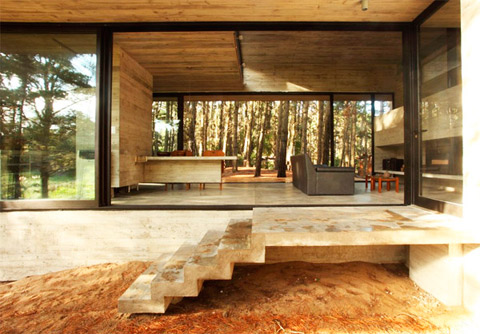 Casa Cher appears to float over two concrete plans… Perhaps it was cautiously designed to become a natural part of the landscape? But one thing is definitely visible to those who inhabit this massive concrete construction: a certain sense of tranquility and peace…