The ski cabin is a well known and cherished architectural archetype. The steeply pitched roof. The high foundation. The dark wood and sweeping views and living room fireplace surrounded by natural stone stained with ash. The Laurentian Ski Chalet by Robitaille Curtis Architects is one of these cabins. It embraces the traditional design footing of the ski lodge while exploring formal and material ideas that result in shattering the mold we've all become so familiar with. Trust me, it's a good thing.
The Ski Chalet resides in the Laurentian mountain range near the village of Saint-Donat in Montreal. It's the highest residential structure on the mountain range, a title it embraces and celebrates with an unparalleled sense of place and regional responsibility. Surrounded by a dense spruce forest and blankets of fluffy snow, it responds to the landscape by picking up on material notes reflected in its edifice.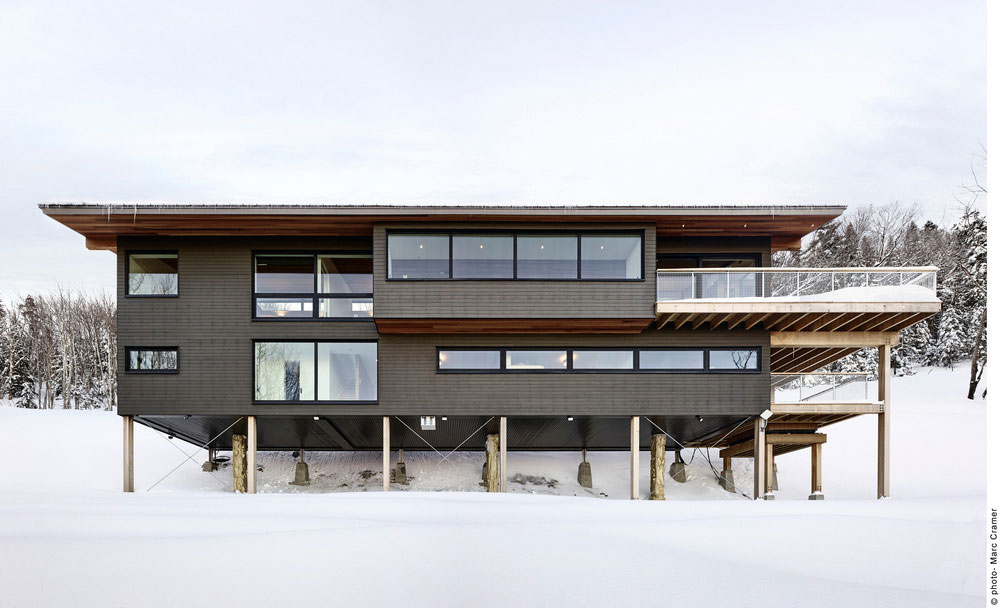 The structure is perched above the snowy ground via a series of structural piles, giving the chalet a majestic gravity-defying swagger rivaled only by the sheer cliffs that surround it. Typically, mountain cabins will sit on a skirted concrete base to protect the home from piling up snow. The Ski Chalet takes a more daunting approach: lift the entire house above the forest floor to achieve the same protection, and in so doing adding intrigue to a modern take on a known vernacular.
An open floor plan connects the bridge-accessed entry to the living, dining, and kitchen spaces, which look out towards a stunning mountain view that already sits 30 feet above the ground.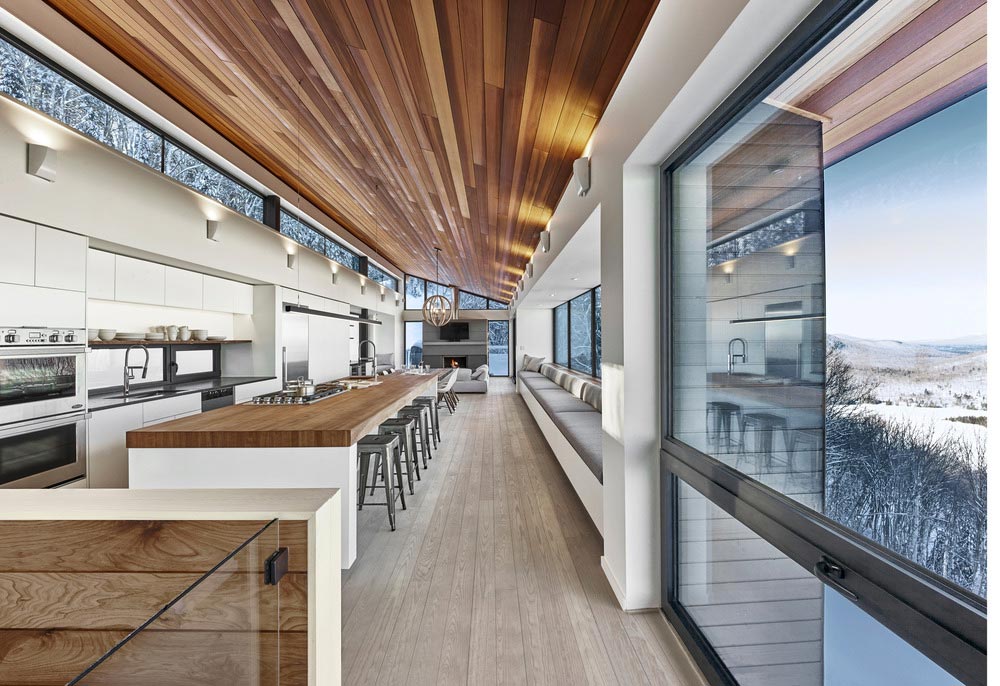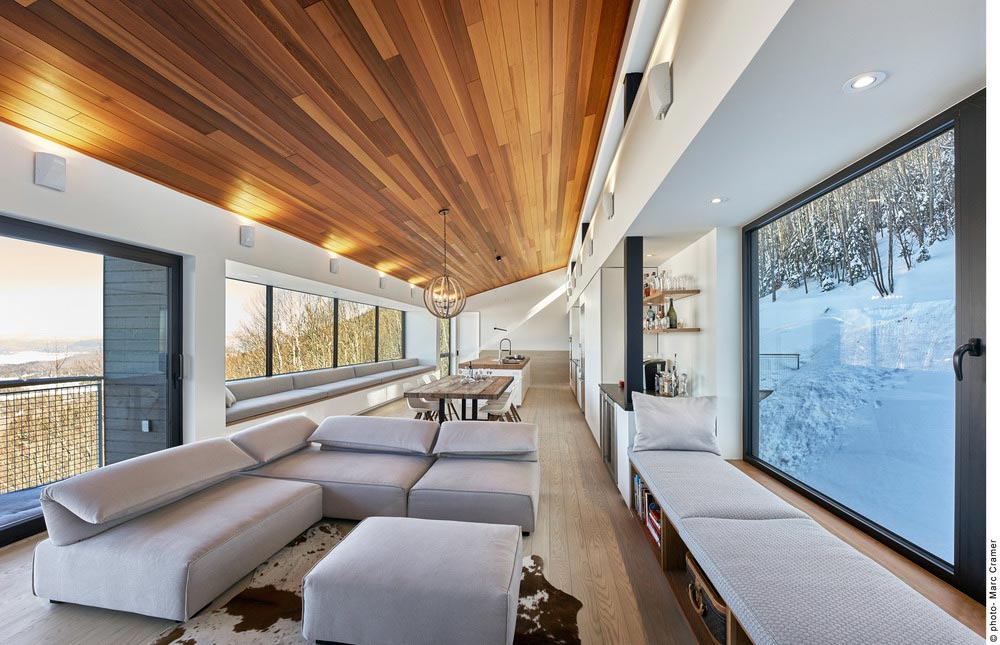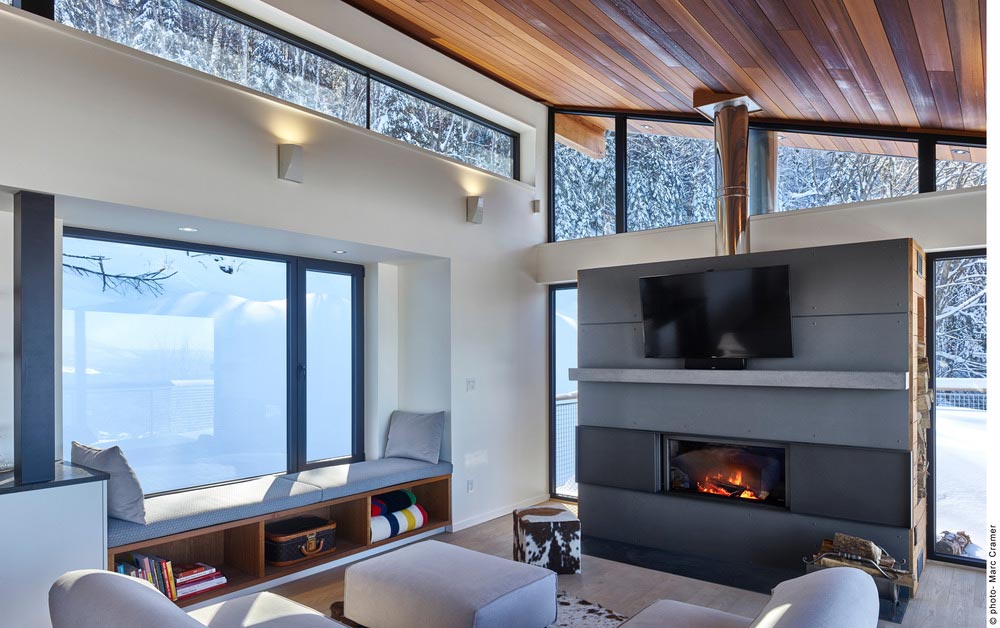 The single plane shed roof results in a steep vaulted ceiling that is clad in regional hardwood that matches much of the remaining interior wall finishes. It's a material choice cabin-goers will immediately familiarize with, only here we see a treatment that firmly plants the design in the contemporary. Window openings are vast and minimal. Interior spaces are open and bright. Lighting fixtures are concealed and discreet. It's a cabin, alright, but it sure ain't your Grandaddy's.
It all culminates with a stunning central fireplace that does unquestionable justice to the mountain cabin name. It's central to the design and provides the visual and functional warmth necessary for comfort in such a harsh climate. The Ski Chalet is a retreat for a new generation of hikers and skiers, and provides a clear vision into the future of cabin design.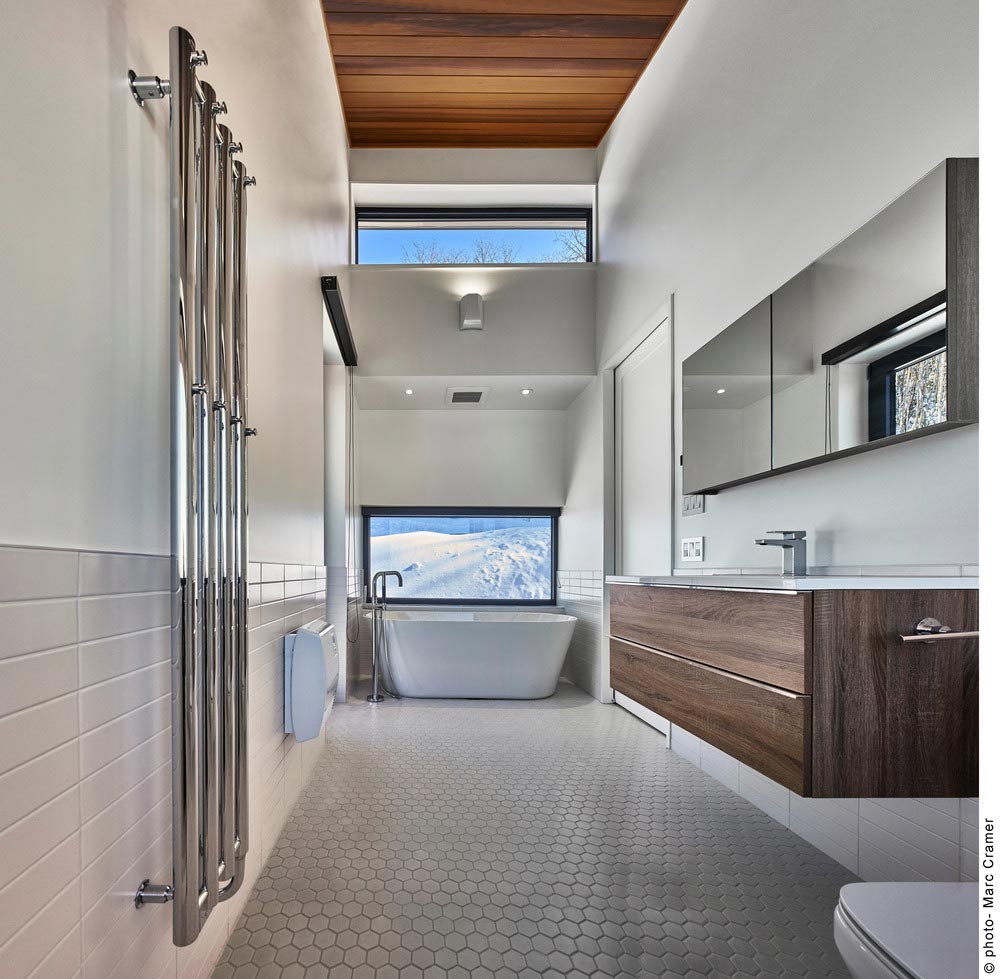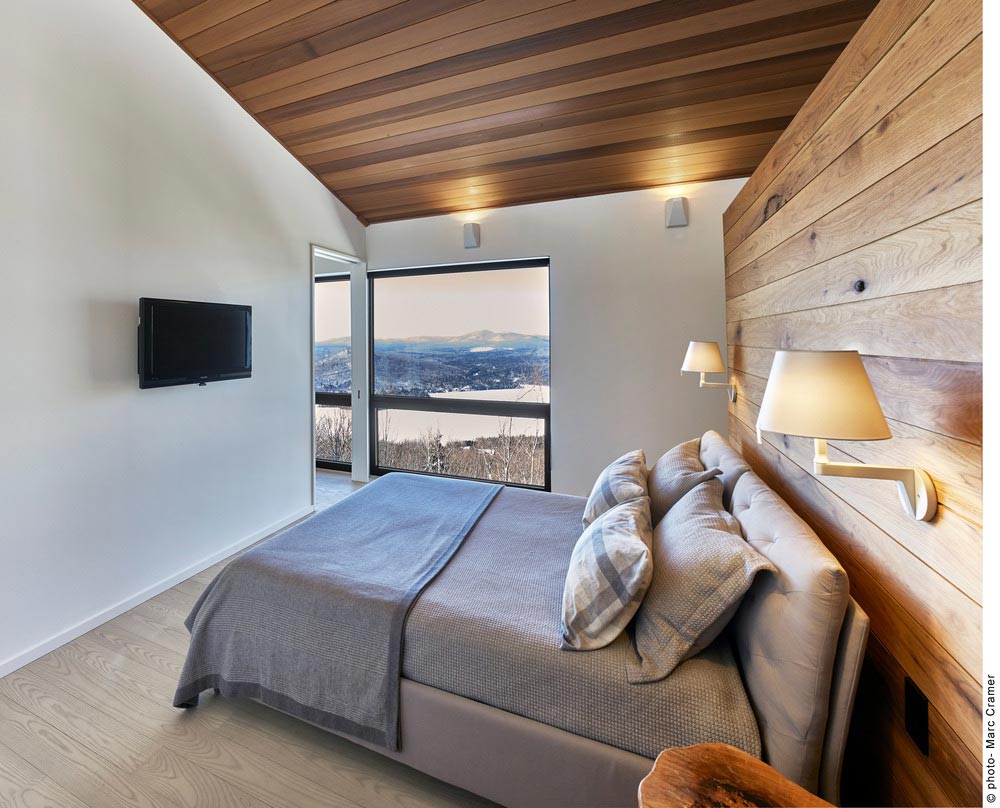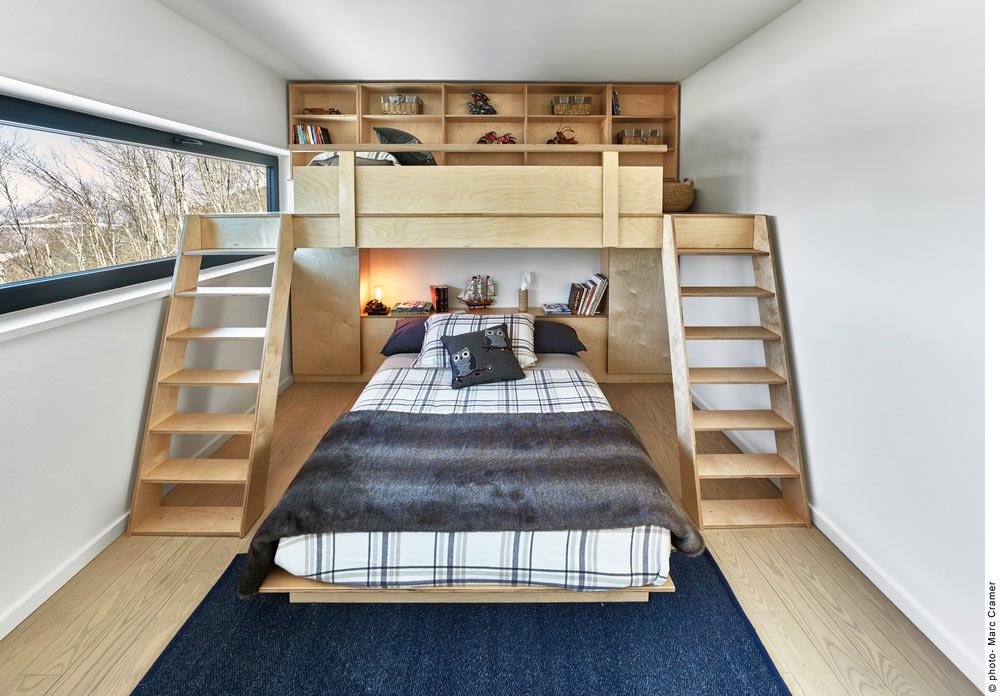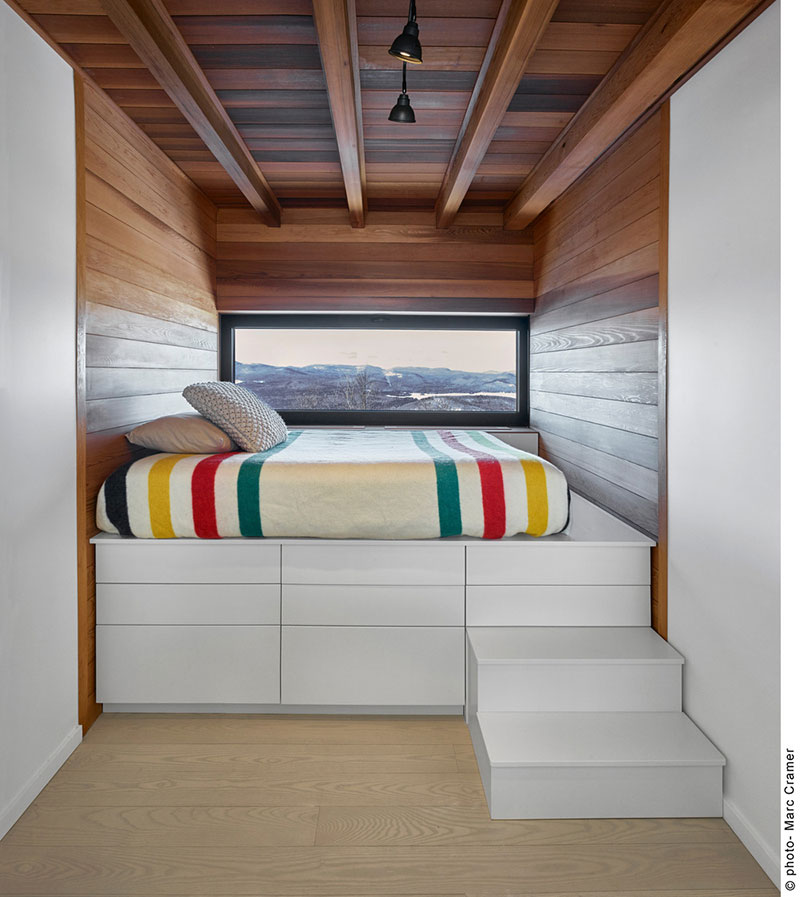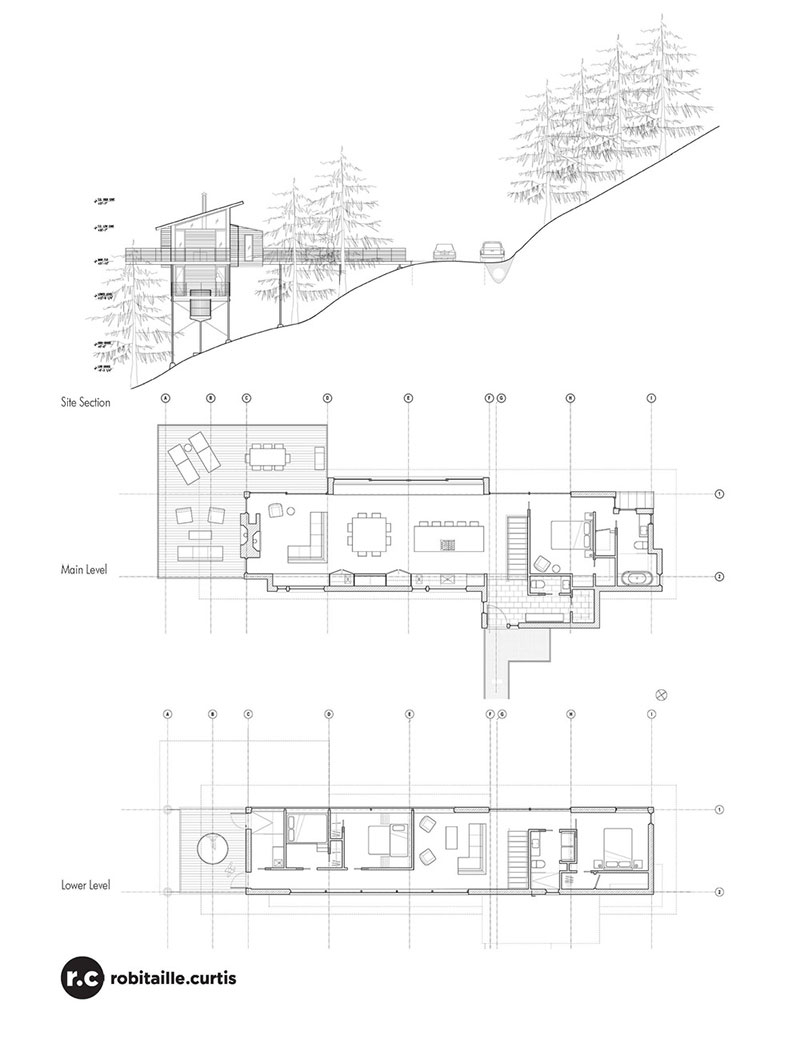 Architects: RobitailleCurtis Inc.,
Photography: Marc Cramer