Sometimes architecture takes on forms unearthed from the unexpected, venturing into uncharted territory to present something truly unique and special. The Southern Highlands House by Benn + Penna Architecture should be viewed first as one of these instances, and second as a carefully crafted architectural object that does almost everything right. Convention was dropped off at mile post one as the designers looked to the land, to the past, and to the future to come up with something extraordinary.
The home is spread across the rural Australian landscape as three separate pods, punctuated by a pill-shaped structure that acts as guest quarters, as well as the focal point of design ingenuity. The site presented several environmental challenges. Namely an extreme arid climate in an area prone to forest fires and extreme heat. These challenges were met with a broken plan clad in corrugated metal that protects the interiors, which are well insulated and shaded.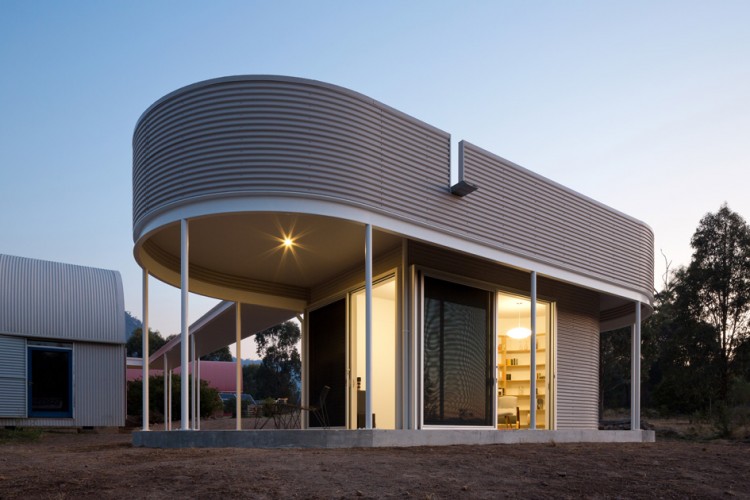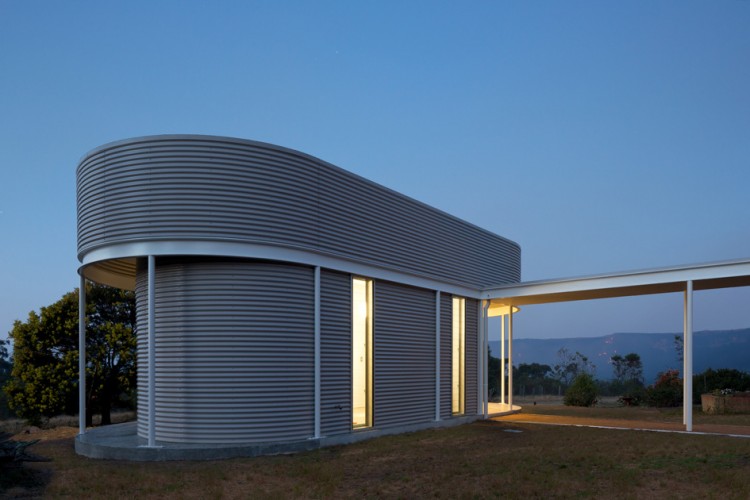 A spindly canopy structure connects the three primary nodes. It's a minimalist addition that provides shaded exterior space that blends into public patios at each of the structures. Aside from the guest house, there are separate structures for the private and public functions of the home. The kitchen and living area looks away from the sleeping node, presenting unobstructed views towards the serene desert landscape while protecting the privacy of the two mirrored bedrooms.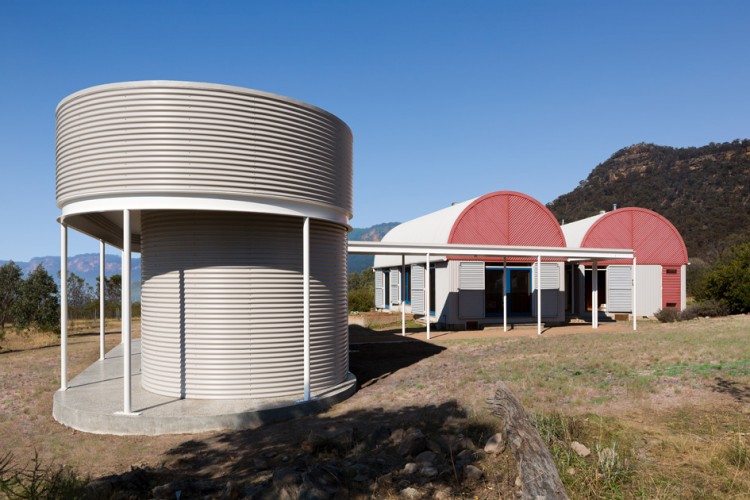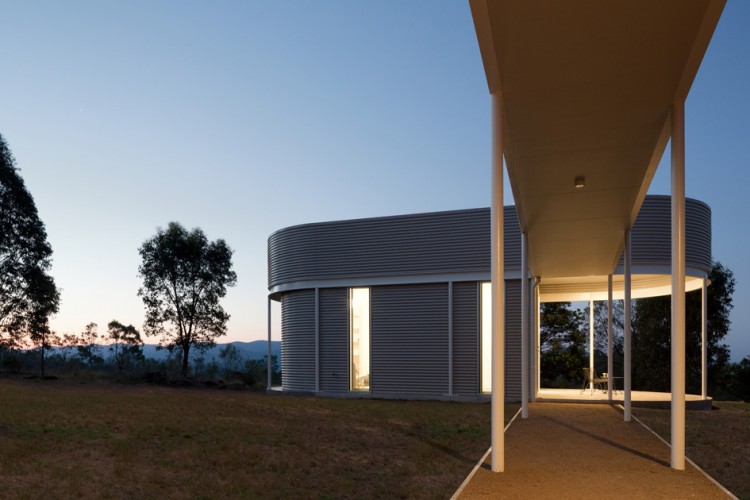 While the home sits gently and modestly on the desert floor, it makes no effort to blend into the surrounding landscape. Rather, it makes a poignant statement about survival in such conditions by using durable materials and careful site placement to passively protect the beautiful and vulnerable interior spaces. In a day and age when central air is every builder's solution to a difficult climate, it should be celebrated when designers and architects go to such lengths to give a building a sense of place.
The subdued aesthetic of the exterior is mirrored by a clean palette of natural materials on the inner core of the three nodes. Wood accents for shelves and casework is complimented only be painted white drywall behind it. It's a work of art where only as many paint strokes that were needed were used. The Southern Highlands House is a special kind of architecture, giving meaning not only to the structure itself, but to the world it finds itself in.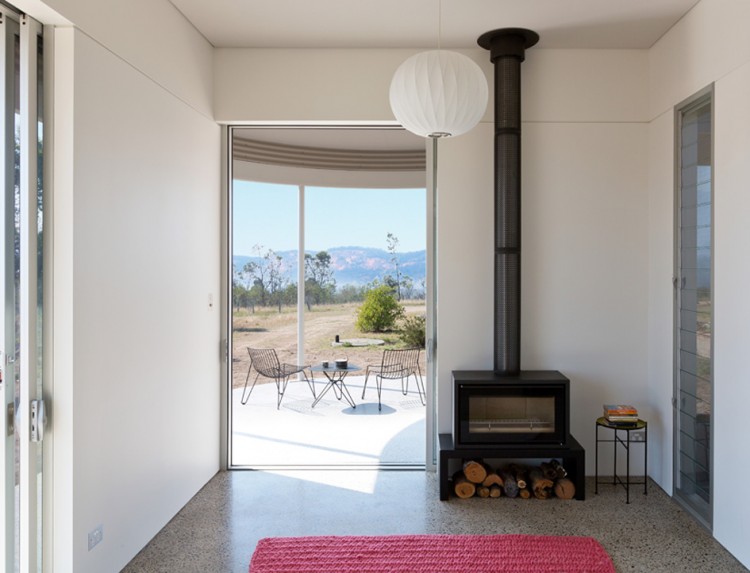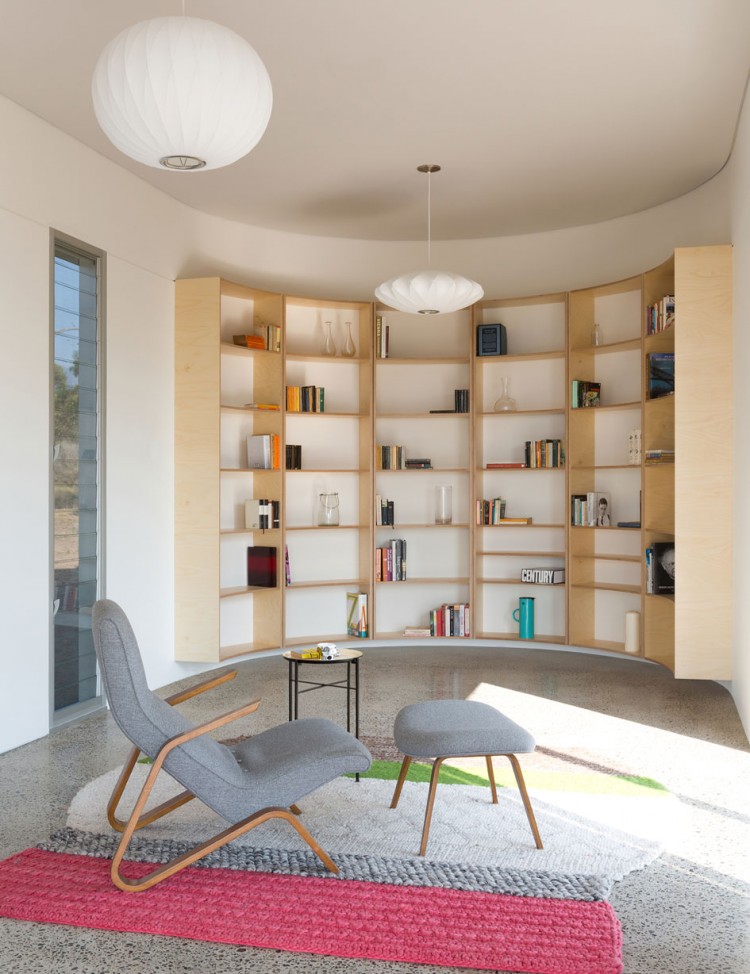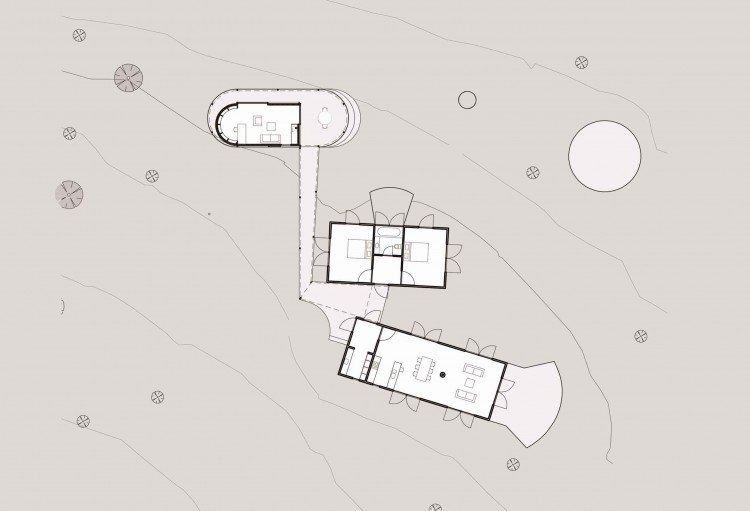 Architects: Benn & Penna Architecture
Photography courtesy of Benn & Penna Architecture