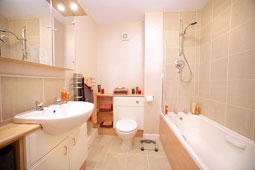 Baratt Homes, One of UK's house building companies, came up with the iPad – an innovative new home at an affordable price, created especially for first time home buyers. Barratt are offering 1 and 2 bedroom apartments which include a living/dining area, spacious open-plan kitchen and fully-fitted bathroom, plus a private balcony.

One of the major problems of first time home buyers is that the space they can afford is usually not the space people actually want to live in. Personally I live in a rented house and of course I would love a house I could call my own, but i'm not willing to sacrifice how I live and the current space I live in for the space I can afford, which let me tell you is not much.

Going back to the Baratt Homes iPad apartments – they make good use of limited space and don't have that cramped feeling that usually comes with a tiny floor space. They provide a great opportunity for students or any other first time home buyer, as well as older single people or couples. The iPad apartments will be built in low-rise buildings throughout Britain.
By the way, if you're into affordable housing or prefab homes you might also be interested in:
BoKlok affordable housing
Prefab home Loftcube
TomaHouse Prefab cabin Bali style
Prefab home Dwell Home Design