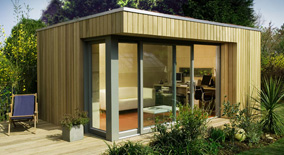 Prefab ecocube will extend your home creating a prefab home in your garden. It is perfect as a home extension or an outside office. Now you can relax, entertain or work in the ecocube, ecospace's prefabricated solution.
The prefab ecocube is made out of sustainable cedar wood and very simple to setup;

Just pick a suitable space in your garden and choose the right prefab frame size to fit. Select the position and number of screens to create an open space feel or an enclosed one for privacy. You can add planter boxes for your greenery within this beautiful modular prefab home extension or even go for the organic planted green roof.
I have always dreamed of an outside office. Once I saw in BBC's Homefront this amazing garden design by Diarmuid Gavin designed and built to use as an office. Just think of the amount of creativity and peace of mind working in such a natural place. I think ecospace hit the jackpot with their version of a prefabricated home office.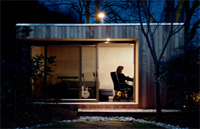 ecospace prefab home office windows all come with high-energy, sealed-unit double-glazing and Scandinavian pine frames. The floors are all low-maintenance, eco-friendly wear-resistant rubber, looking so good against the internal birch walls.
By the way, if you're into affordable housing or prefab homes you might also be interested in:
BoKlok affordable housing
Prefab home Loftcube
TomaHouse Prefab cabin Bali style
Prefab home Dwell Home Design
Prefab home DaVinci Haus
Modern prefab home by LivingHomes