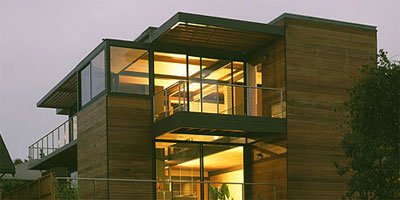 LivingHomes, a new prefab house development company work with leading architects to create lines of modern prefab homes that feature modern form and functionality and an unprecedented level of healthy and sustainability materials and energy systems.

LivingHomes modern prefab home aspires to set a standard for the positive impact it has on soil, water, energy and health. It's all about high design with low environmental impact.
Ray Kappe, FAIA, designed the first line of LivingHomes modern prefab home. Kappe is renowned for his residential architecture which has been characterized as 'the apotheosis of the California House.' His designs evince a mastery of warm, modern spaces, clearly expressed construction systems, and environmental sensitivity . "I've always sought out the edges, the views, and a feeling of expansiveness," Kappe said.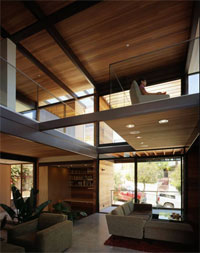 LivingHomes -a pioneer in green, prefabricated development- believe in environmental modernism: form, function and ecological fidelity. Their homes use sustainable, healthier building materials, as well as energy-efficient environmental systems and products, thus contributing to cleaner air, water, and soil. Making both your modern prefab home and your community a better places for people to live, learn, work and play.
By the way, if you're interested in modern prefab homes, architecture modern design or affordable modern homes you might also be interested in:
Prefab cabin Bali style by TomaHouse
Prefab home Dwell Home Design
GriffnerHaus – architecture modern design
BoKlok affordable housing
Prefab outdoors modular home by ecospace