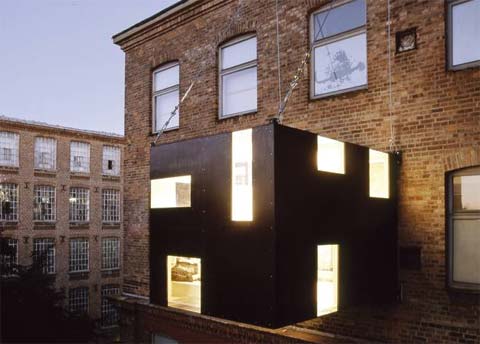 The Rucksack House, designed by Stefan Eberstadt, is a prefab home extension; a hovering illuminated, prefabricated extension that looks like a cross between temporary scaffolding and a minimal sculpture. Why not expand your compact home with an additional room that is mobile as well as tres chic?
This modern, prefab home extension can be suspended from the facade of almost any residential building. With its light cubical form, the Rucksack box provides an extended private space which floats outside of your house above the public space.

This prefab steel home extension is suspended from steel cables anchored to the roof or to the facade of the existing building. The construction is a welded steel cage with a light birch veneered plywood interior cladding. The outside cladding is exterior grade plywood with an absorbent resin surface punctuated by Plexiglas inserts.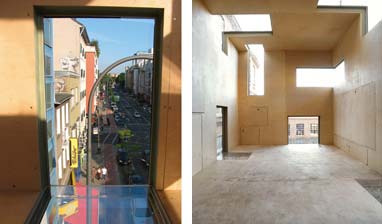 The Rucksack extension offers multitude of built-in openings on the inside providing direct daylight, exceptional perspectives and new views on the city and the surrounding area…probably the best view in town.
Fold down furnishings on the inside provide extra living space; sections of the walls unfold, with the help of hidden magnets, into a desk, shelves, and a platform for reading or sleeping. What a great way to expand any small space or compact home.