The e-BODE is a stylish Australian prefab home. It consists of prefabricated steel framed, modular units that are constructed in a factory only to arrive at your site on a flat-bed truck, ready to be positioned on the foundations.
Each module measures 3.6 x 14.4 m and provides an internal floor area of 50 sq. m. featuring full-height glazing, a beautiful modern bathroom and kitchen, high ceilings, timber floors and a wrap-around veranda.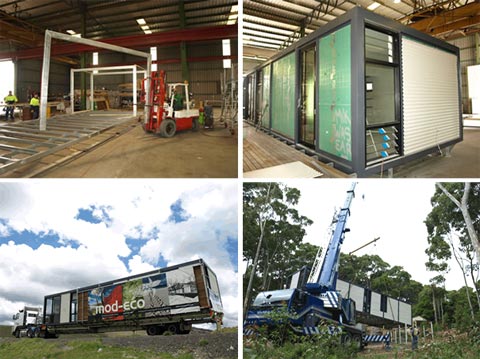 The prefabricated e-BODE featured here is a holiday house, which consists of two modules separated by a large, sheltered deck. The modules touch the ground lightly, while hovering over the sloping site. The modules feature an over sailing steel roof that shades the living spaces, collects rainwater and supports a solar hot water system.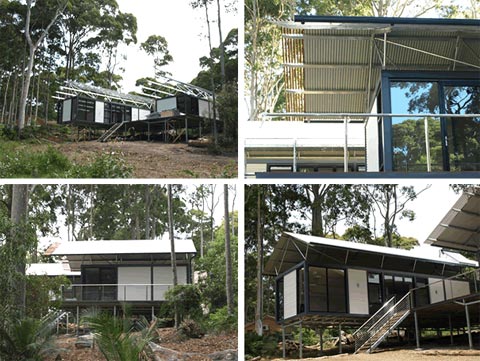 The full-size module contains the living and kitchen areas, a bathroom and one bedroom; the smaller unit has a master bedroom suite.
This modular prefab can be positioned to make the very most of your site. Here are a few house plans for this modern prefab : a single e-BODE for the perfect holiday retreat, a double e-BODE for a great family home or a single module in the back garden for a home office, a guest studio or a prefab extension for elderly relatives.