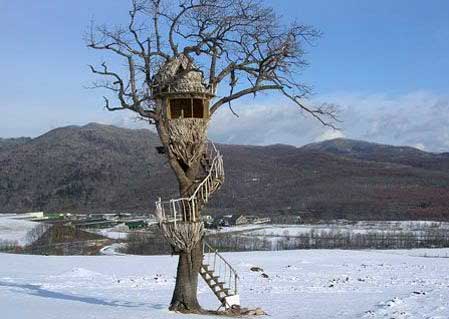 This amazingly beautiful tree house design can be found in Kamishihoro, Hokkaido, Japan's second largest island. This treehouse seems as if it has been taken out of a fairytale winter wonderland.
The Director of Japanese Treehouse Creations, the talented author, photographer and builder, Takashi Kobayashi, is behind these lovely tree houses combining style, design, and sensitivity in his creations.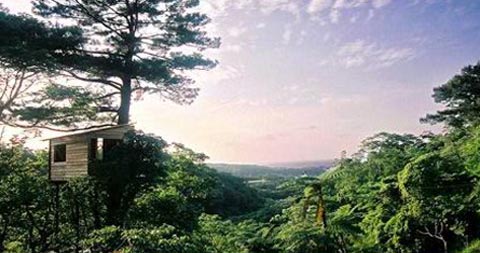 Kobayashi has explored forests and woodlands across Japan as well as across the globe, stating: "…That comfort, that sense of calm, is something I'd like to share with as many people as possible. And it is with that in mind that I will continue with the one-of-a-kind rush that is treehouse creation, all the while carrying out my own personal dialogue with their hosts."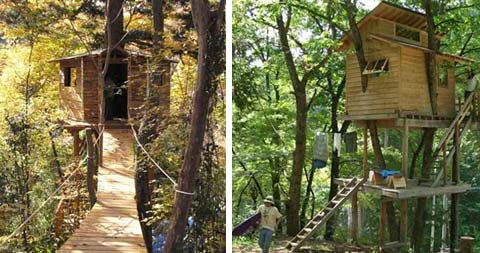 "…Through treehouses we find fun, adventure, and feel on a deeper level, the importance of nature in our daily lives." – Truly inspiring.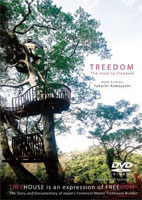 In his new book Treedom: The Road to Freedom
, Kobayashi examines being an outcast in a rigid society of rules and conformity and finding salvation in the trees.
This book describes how tree house living is a lifestyle and philosophy, combined with the author's photography and writings, and accompanied by the poetry of William Blake – how appropriate!
Order it here
.