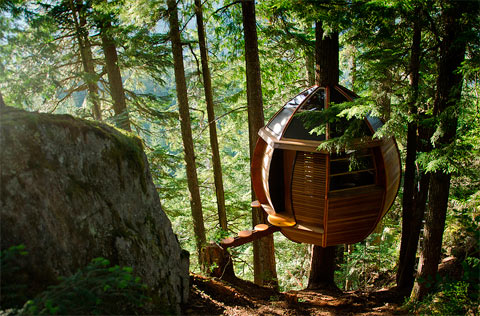 Are you familiar with the natural habitat of tree squirrels? This curious animal lives mostly among trees, collecting food and hiding inside tree trunks. The basis for their survival resides in the forest…The same starting point for the HemLoft by Joel Allen – a singular tree house located in the woods near Whistler in Canada's British Columbia. The precise location of the house is a secret though because it's built on government property without any kind of legal permission.
Like the conception of a bird's nest, all the constructive components had to be carried into the site while construction waste was taken back out. The entire weight of the egg-shaped treehouse is supported by the tree around which it is built. A perfect metaphor was made for an man-made creation that intends to be invisible as possible to the eyes of the surrounding nature.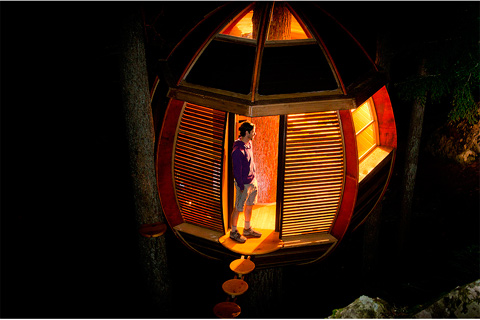 The program behind this amazing tree house design is quite simple: a simple sleeping loft capable of being used as a secret camping spot on crown land in the woods. Recycled free materials were applied such as old doors, wood planks and the result couldn't be more impressive: an overabundance of windows including hatches that open up from the loft, a tall vertical window that frames a neighboring tree and a sliding glass window that opens onto an outdoor covered deck. All conceived with the intention to enhance the awesome cliff-side view over the valley. Isn't this an inspirational project for those who seek a profound connection with nature?