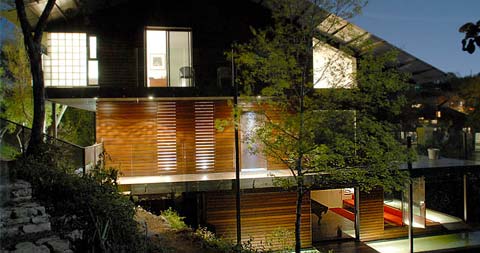 Austin-based architecture firm Bercy Chen Studio reused natural and man-made resources in order to reconnect an original house with its site while preserving the characteristic of the site as much as possible – a recycled renovation, if you will.
What started as a modest remodel for the Beverly Skyline home turned into a full master-planning for the site, including complete interior and exterior recycle, an addition to an existing 1970's home as well as integrating the architecture with the native garden and creek at the bottom of the property.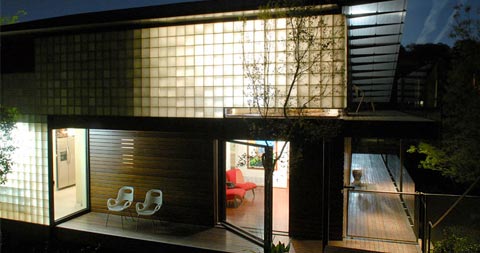 This beautiful residence features exterior decks with glass railings, recycled glass blocks at the front facade of the house and slats used as rain screens.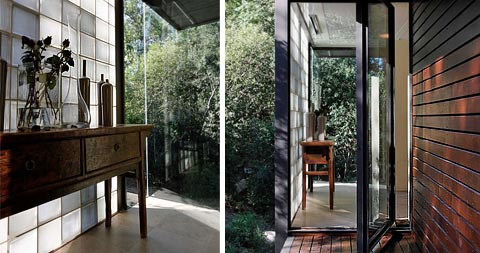 Harvested rainwater is stored in pools and reservoirs to re-connect the house with its site, where a series of cascading ponds add a dramatic effect as well as a peaceful transition between the landscape and the architecture.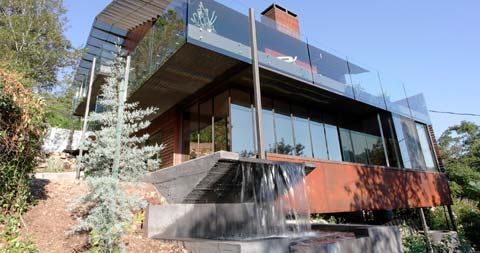 By following the principles of xeriscaping, native plants were selected for the garden in order to minimizes the usage of water. The garden is planned around existing mature trees and shrubs with various ground covers and perennials.