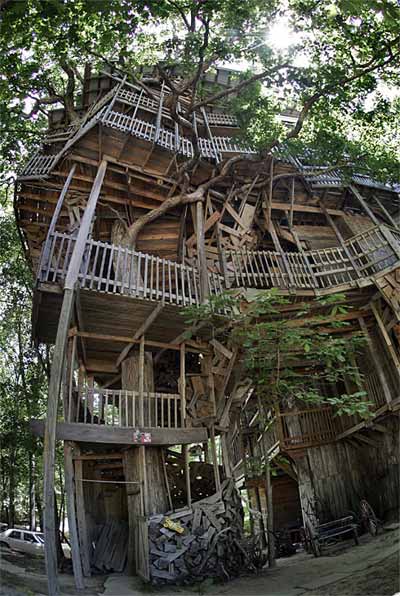 This huge treehouse rises 97 feet into the sky, supported by a live, 80 foot tall white oak 12 feet in diameter at its base. People flock from across the country to Crossville, Tennessee, to marvel at this tree creation. It was built by 56-year-old landscape architect, Horace Burgess, who was inspired by a vision of a treehouse church. You've got to see it, to believe it.
Most of the materials are recycled pieces of lumber from garages, storage sheds and barns. The structure features 10 floors, averaging nine to 11 feet in height, and approx. 8,000 to 10,000 square feet. The treehouse is topped by a chime tower weighing 5,700 pounds; the chimes were fashioned from 10 oxygen acetylene bottles.
Scattered about various floors, about a dozen tiny brass plates hold the names of people important in the builder's life; the homemade sign at the bottom reads: 'Welcome friends'.
"I built it for everybody. It's God's treehouse. He keeps watch over it,"
said Burgess.