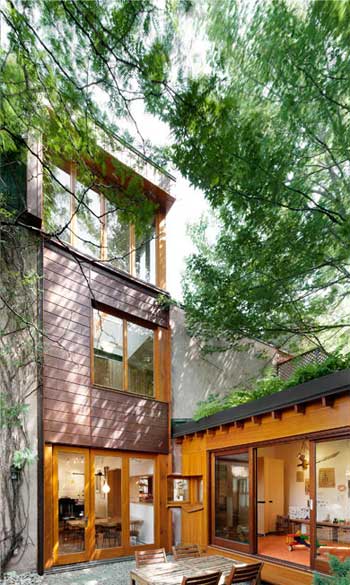 Located in Montreal's Plateau Mont-Royal neighborhood, the exterior of this brick house suggests nothing out of the ordinary. Inside, it features an open plan space with a three-story-high stairwell that floods the entire home with sunlight. The new extension consists of a playroom and an office in the form of two boxes of glass and wood, 264 sq. ft. each, one in the garden and one on the roof.
The house belongs to a an architect and his family, who decided to renovate and expand their home for about $100 per square foot by using affordable materials and doing most the work themselves.
As opposed to other houses in the area the yard is on the side instead of in the back – it's private, wrapped by other buildings, and sheltered by plantings that absorb the sounds of the city and give the place a feeling of an urban oasis.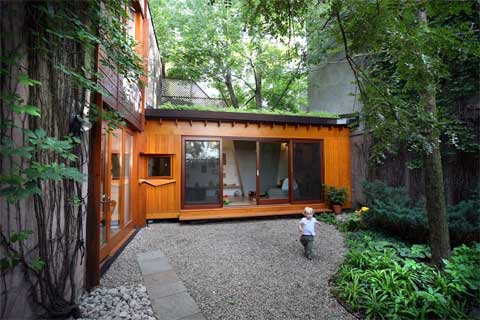 The small, one story playroom is located at the end of the garden, under the big maple tree. It is connected to the living rooms, creating an L shaped living space with a green roof on top, providing green views from the second and third floors.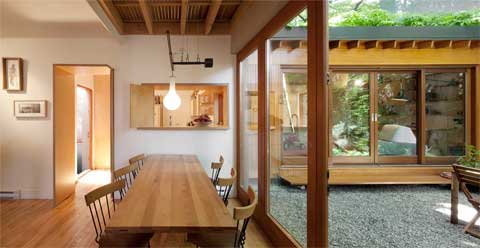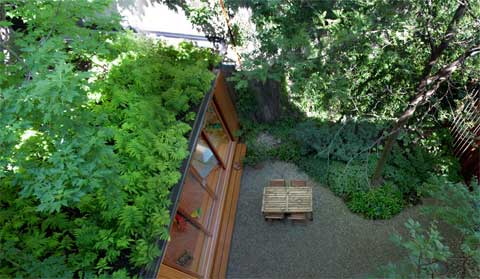 Complying to city regulations, the new third floor office space is not visible from the street. The space features a v-shaped ceiling and lots of light.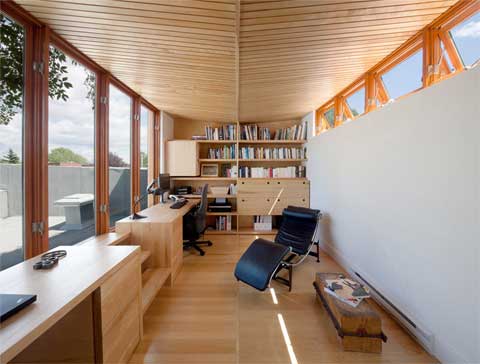 The couple's do-it-yourself approach helped to keep costs down; bedrooms on the second floor open onto a bridge floating above the living room, and can be closed for privacy via sliding doors made of Birch boards; most of the kitchen cabinetry feature holes instead of handles; the handrail of the cantilevered stairs is located against the wall, keeping the clean-cut look.