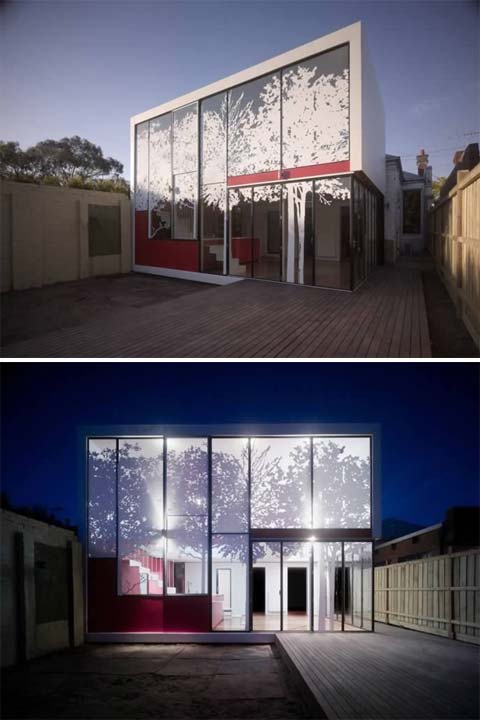 At first glance, this 3 bedroom house appears as a simple box; if you look closely, you will notice a delicate tattoo stencil, depicting the graphics of a tree, providing an unusual screening method to the glass wall. This unique feature was conceived to soften the modern impact of the new home extension, which now provides a new living/kitchen space for the owner's young family.
Despite the tight budget, the architects successfully created a new, two story addition that is also a piece of art.
What could have been achieved by incorporating an expensive and elaborate screening units, has been resolved by sheer creativity, or more precisely, by the use of UV stable stickers.
The tree graphic – based on images taken in the local park – creates playful and ever-changing shadows across the interior spaces; it also reflects heat and glare away from the expansive windows, eliminating the need for curtains.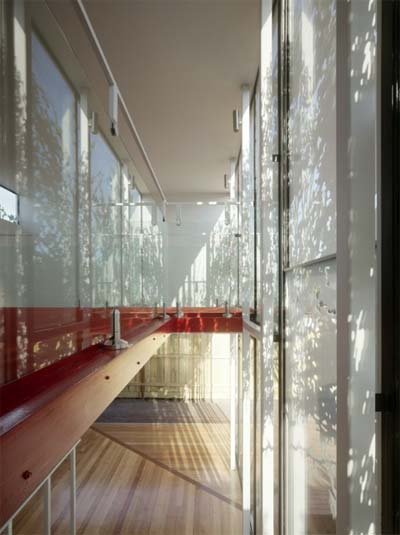 A series of movable glazed openings enable the space to fully open up to the outdoors; the white and red color scheme adds a contemporary touch, and the idea of the kitchen counter becoming an integrated part of the stair is just awesome!