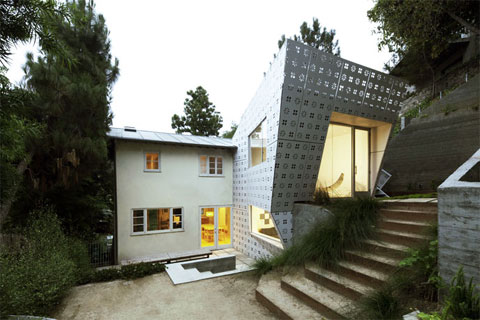 Located deep in a canyon in Santa Monica, California, this modern extension seems to be squeezed between the main house and a severely sloping hillside. The new addition serves as a small music studio. In order to blend its sharp geometric shape with the natural surroundings the architects utilized a unique building material system in the form of laser cut fiber cement panels, giving it a crystalline quality.
The panels depict natural elements taken from the canyon site, providing a delicate essence to the hard edge geometry of the new extension. The changing light brings this unique building to life, playing with the etched lines and patterned edges of the panels. During the day, the building appears as a decorative ceramic vase, while in the evening, it illuminates the canyon terraces as a perforated lantern.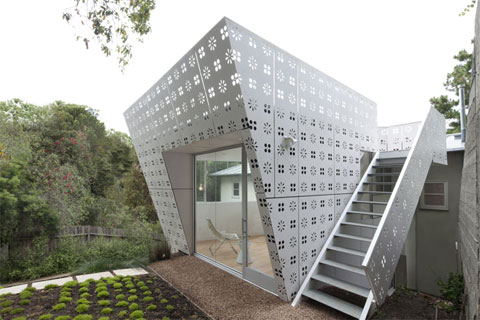 Since the house is situated on such a challenging lot, with minimal access and a limited space to build upon, site regulations required specific configuration of the retaining walls; a series of wall planes fold up and over the building to create a rooftop railing and privacy for the sundeck.