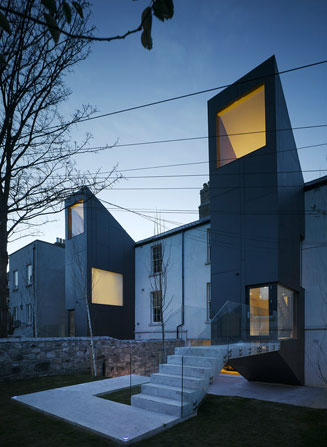 The Castlewood extensions are located in Dublin. These are two modern annexes built up to two 19th century semi-detached buildings. The area of the project is approx. 1,743 sq. ft.
Let me omit the long and complicated past (which I can't pretend to know well, anyway) of historic annexes and decisions to replace them with new ones, for I think I should focus on what I see (not what I could possibly know) – based on the fact that the old historic 19th century substance is extended with absolutely new, outstandingly bold structures.
Due to the color and texture of the outer appearance of these new building blocks they sit well together with the old building. The whole composition looks absolutely exquisite. Quiet, deep, matt grey color of the modern cladding fits very well with the whiteness of the original building, so that the new and old underlines each other by fine contrasting.
The old windows with their special historic casement division stand in contrast with the extension's windows – big glass areas without visible sash. The large windows of the last level of the annexes look like modern eyes, which actualizes the "old stuff" and makes the architectural composition very vivid and alive. A study is situated behind each of these "eyes".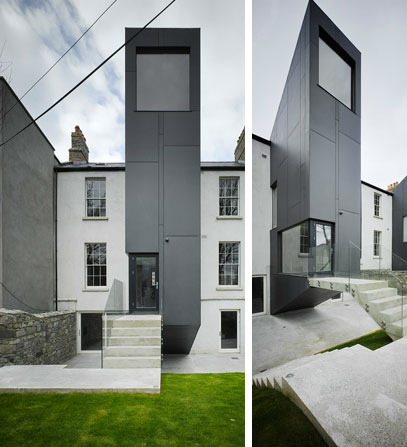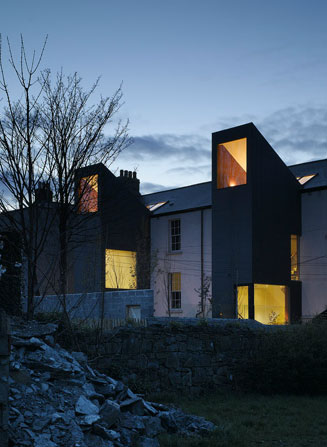 The annexes' roof is dramatically inclined towards the house – an instrument which also adds up to this old-new contrast. The same incline is applied at the bottom of the annexes; the difference in zero levels of the new blocks and the rest of the house is used here in a wonderful way: take a look at the picture – how dynamically the stairs go from the bottom incline of the annexe to the higher level of the yard, turn around and come back down to the house under the annexe.
The stairs themselves are so modernly concrete, white and minimalistic, that they seem to say: "We are here to arouse your interest to the entire building, we don't want all of the attention to ourselves. We could be easily taken away". And so it is: the annexes are structurally independent from the main building – the fact that is highly appreciated by preservation principles, because theoretically the new extensions can be harmlessly removed.