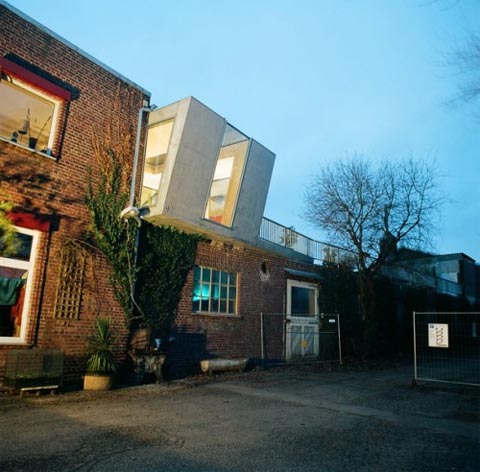 This project is an apartment extension in Munchengladbach, Germany. A rather dull row of apartment houses has been freshened up by an addition of a concrete-glass structure on the roof (I guess not more than 210 sq. ft.).
The apartment itself is situated in the higher, two-story building, on the first floor. So there was a great opportunity to utilize such a location and enclose the area on the roof of the next, lower building. So the project of the extension and roof reconstruction was developed. It was decided to build a new structure on the adjacent roof and to convert the rest of the space into a terrace.
The new space serves as a common room. It brings a new vibe to whole structure by hanging over the ground floor with its dynamic shape and color (greyish white in contrast to the red masonry walls of the existing buildings).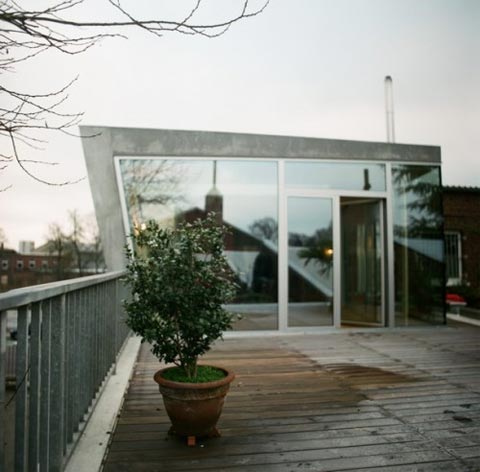 The new room has got an interesting interior design created by the special form of the whole structure. The large window on the main wall grows into the roof window, so that it looks like a glass stripe cut throughout the room. The side walls are also practically made of glass. So the room is very bright and the sights are spectacular (you can see a whole lot of sky, and it is splendid!).
I hope the people who are using this room and terrace are happy with it. Moreover, I think also, that the people who walk near the house are also pleased: something dynamic and new has appeared in their surroundings.