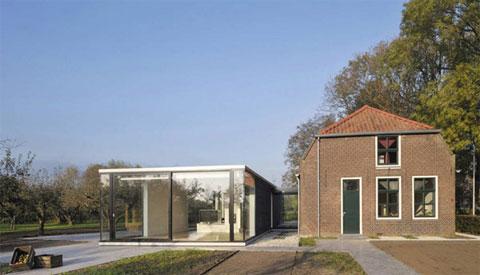 What could be more romantic than an old*, solitary**, medium scale*** house in the country?..
* let us not go into details of the dating and imagine that old means just old.
**the way a farmhouse is usually situated.
***one and a half story.
..The one with the clay tile roof. The one with old wooden window sashes. The one surrounded by the fresh, infinite greenery everywhere your eye can see. The one with a fabulous apple tree garden… Have you already got this rurally romantic picture in your head?
And now for the last one… The one with an ultra-modern annex!
This wonder is called the House Acht5 and you can find it in the Betuwe Region in the Netherlands. The annex's layout has a form of a wide stripe (1063,5 sq. ft.), which is longer than the main building's side, yet settled beside it. Thus, the new structure peers out from behind the old house.
Being an architect myself, I enjoy the graphically clear look of the layout and its beautiful composition. Sometimes it is true that if something looks harmoniously and feels right, it functions harmoniously, as well. This is the case of the House Acht5.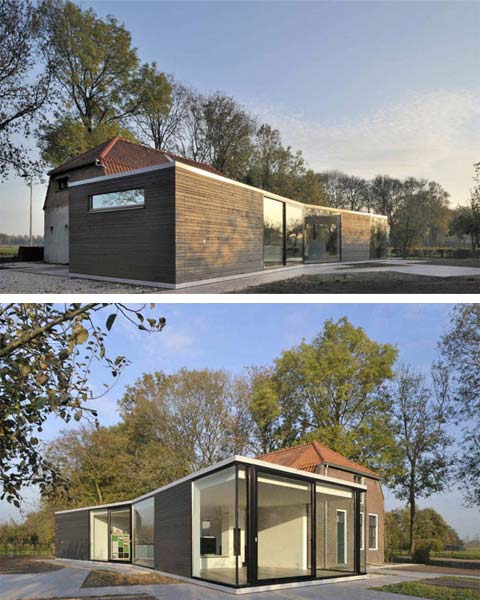 The connection aisle between the new modern extension and the old house is made distinctively narrow in order to underline the extreme difference of both volumes and – which is more important – in order not to interfere too much with the old house's appearance, since the latter is an independent structure.
There several visual contrasts created by the designers to strengthen the surprising effect of an annex and to underline the epoch difference. These two main differences are the most vivid: "tiled roof with an incline, versus no roof needed (plain roof)" and "brick elevation with separate windows or doors, versus glass walls/solid walls".
This is how the two structures stress the changes in philosophy and aesthetics of what we build now and what used to be built in the past. Choose what approach you like more or just enjoy (like me) the splendid architecture and the interesting restoration product (for the main house has been restored with a few interesting features, for example these curiously framed windows from the interior side or modern doors)
The spirit of this project fascinates me, it shows that the old substance is no way a limit in shaping something new. Moreover, the old and the new here are each other's supplements.
Would this old house seem so attractive to us without this annex? Surely, not! Would the new structure be so cool without the house? Not at all! It would be just another modern box with a pure form and glass walls. It is the context and proximity of each other that makes these two buildings so extremely interesting!