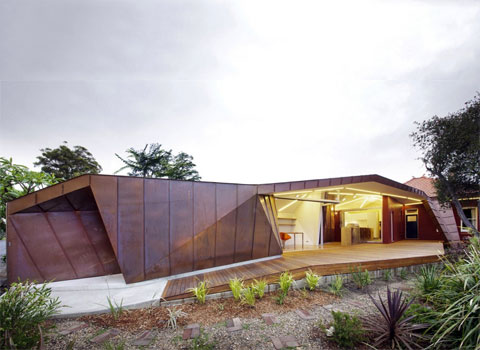 We've already seen some exciting pieces of modern architecture from Australia. And this new home addition, located in Balmain's heritage area, is no different. Such a location made it clear, that this small cottage extension had to be really outstanding in its form and philosophy, otherwise – not to exist at all. And behold! the architects succeeded in creating this playful building shape, which resembles a long dinosaur relict!
Did they succeed in blending the new structure with the surrounding? My answer is yes. The annexe is very low (thus not competing visually with the original small cottage) and very solid, yet dynamic! It seems to be an organic extension of the landscape. To a big extent, such an effect is gained by the rusty metal cladding of the structure, giving the building an earthier look.
The wooden decked terrace, which surrounds the structure, also seems to be organically united with it, as it provides an outdoor area of a kitchen/dining/living room extension.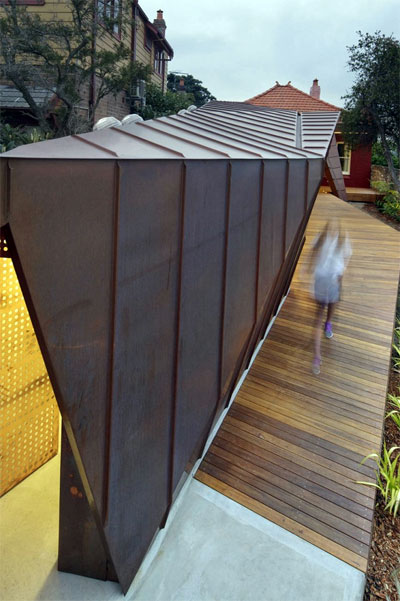 Some of the glass walls (or rather glass screens) are so successfully designed in their flexibility, that you might not notice that it is possible to separate interior from the outdoor space here or there. Such flexibility in planning, especially when it comes to a home's social areas (kitchen, dining/living room), is a must nowadays.
Projects that offer such flexibility are considered modern not only in design, but also in their architectural philosophy. That is why this project is to me more than just a catchy volume with a nice interior – it also provides answers to the questions that where put in front of it: first – incorporating the new substance into the heritage area, and second – the space/function flexibility as a reaction to changing demands.