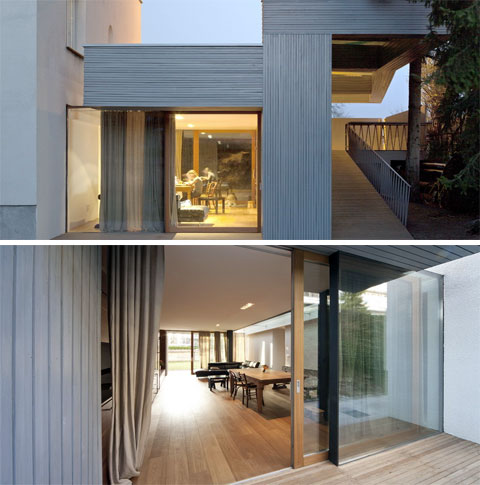 In Ljubljana, Slovenia, there´s a little treasure waiting to be discovered… Sometimes in architecture the smallest programs are the most challenging! The new extension of Villa T captures all the attention because of its singularity…
Picture the following equation: dining + living + covered parking + bicycle storage. Now add this to an existing house while utilizing a constructed area of only 43 square meters to assemble all these factors. That was the starting point of this tiny masterpiece redevelopment of an historical residential area.
This building extension works as the perfect connection between two different levels: the street and the house. A covered parking area invites us to enter, establishing the contact between the street level and the house ground floor (standing 1.8 meters below).
A discrete staircase leads directly to the front facade where a glazed window waits to be unlocked… a delicate ramp softly descends into the back of the house extension offering a more functional access to the bicycle storage located below the parking area. A glass canopy pergola punctuates this private promenade, creating an exquisite relation with the existing trees.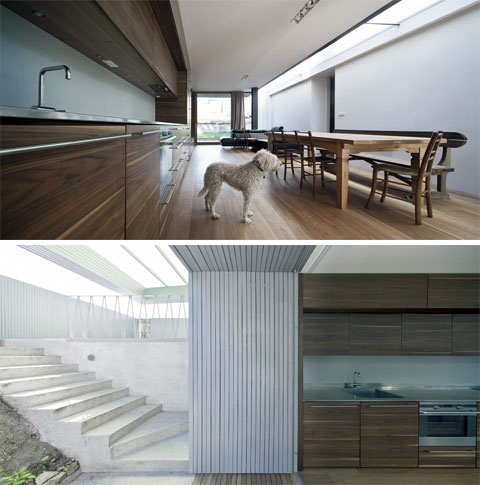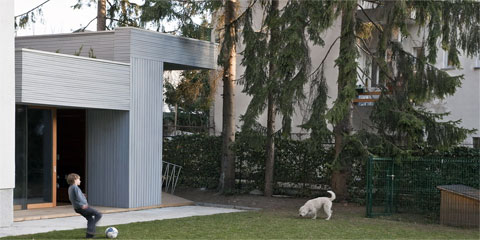 In fact, this relation between natural and artificial is deliberately extended to more situations: the cladding material of the facades is made out of bleached larch wood planks while the verandas and ramp pavement are in traditional wooden deck. Even the roof is designed as an artificial vessel for nature…
The interior space respects the same purpose: wood for pavement and kitchen facilities while two large sliding windows almost break boundaries between the inside and outside. So small, but yet so fulfilling…Don't you feel it to?