An extension house is waiting to be discovered within the countryside of Brecht, Belgium. A small black building with only 26 square meters floats between tall pine trees… A natural green scenery reveals an unusual shape! A floating volume built with trapezoidal wooden structures transformed a traditional holiday cabin into a contemporary home.
The old and the new were melted to accomplish the most perfect match. The new timber parts followed the same frames and studs as the original. This inventive solution creates the border space between the old and the new creating a library, a washroom and an entrance area.
All interior surfaces are bright and white, establishing a great contrast with the deep dark exterior. A black stained skin "dresses" the volume, which texture positioned vertically creates a very close relation with the surrounding forest.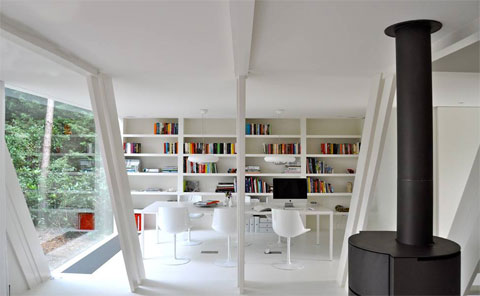 The triangular black facades assume the physical connection between inside and outside: a small terrace preceded by a small wooden stair guarantee the access to the front door while a large terrace extends the living room outside.
The dining space benefits from a fully glazed opening which offers the most impressive views of the adjacent garden and pond. A special moving piece creates a spectacular moment inside this small extension: a big white sliding wall can suddenly close the eye of the beholder, bringing intimacy and darkness into the interior of the house…