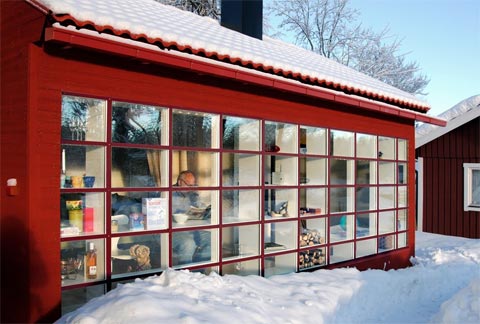 Staring at an ideal scenario while having lunch or even when reading a book… On the Swedish countryside there´s a red house that simply turns the landscape into a remarkable experience! The Sprojs House works as an extension of a traditional Swedish house. This annex has only 30 square meters of area distributed in a single ground floor plan.
The program is composed by a master bedroom, a workspace, a breakfast zone and a storage room, all separated into three majors areas. In fact, this new addition aims an exceptional relation between the countryside world and the intimacy of a private area.
Connected to the existing house through a glass corridor, the extension has a front facade composed by gridded frames, offering a unique view over the garden and lake…It's like a giant living puzzle that captures the change of time and seasons. The most incredible detail of this living puzzle is its two-faced perception: an exterior look into the extension's interior can be as peculiar as the opposite condition!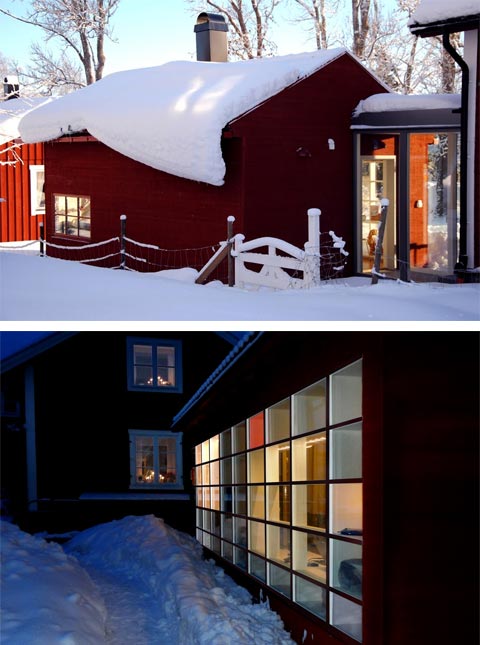 The wooden grid that turns this puzzle possible also serves as an integrated system of built-in shelves that provide extra storage. The red painted wood facade follows the existing color of the traditional house.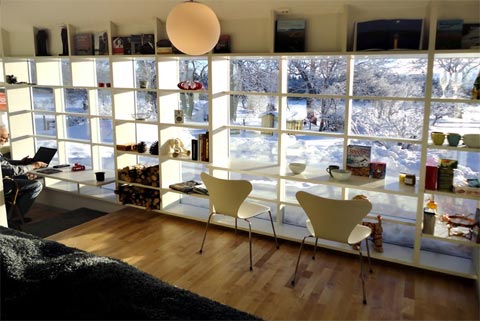 But in the interior was adopted a different solution: white painted surfaces are the predominant element. Only the wood pavement respects its original color… A glass corridor establishes the connection between the main house and its quiet small extension. Sprojs House reveals a concrete intersection between traditional and modern aesthetics, with an original puzzled facade.