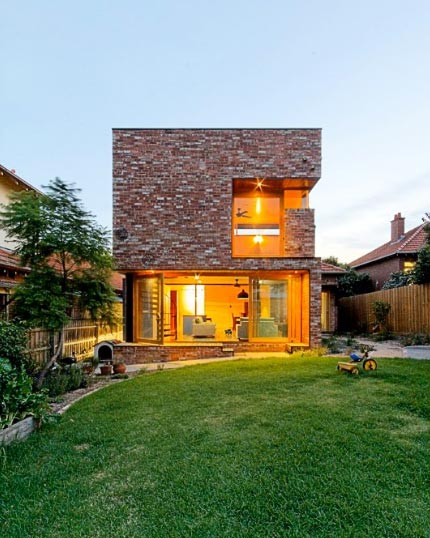 Architecture based in a more positive ecological footprint is such a fine goal to be achieved! In Northcote, Australia, a small extension of a heritage house shows us how to promote a sustainable lifestyle in a very special way. The entire construction is made to spear waste of energy and material…a true Mother Nature ally.
The new addition to this family home is located behind the existing house. The connection is simple and direct, established in the ground floor. This solution avoided extra costs in demolition and also reduced construction waste. In fact, the material used in the facades reinforces this crucial idea. Recycled-brick offers a more organic appearance to the new building, in addition to the sinuous openings made to maximize sunlight.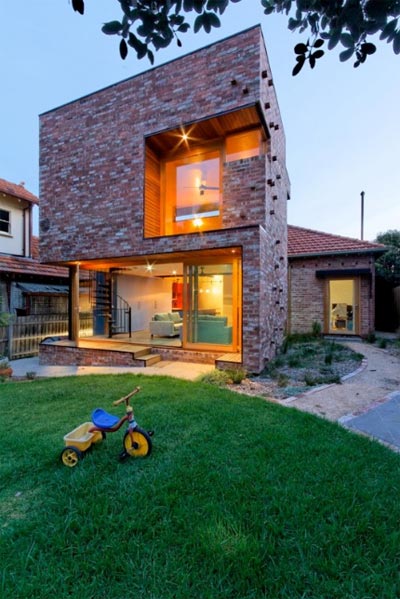 But, what shelters this new extension after all? Well, an open lounge area is connected with the existing kitchen and dining area on the ground floor. A black spiral staircase leads our steps to the upper level onto a single bedroom. A roof terrace is also available to enjoy a sunny afternoon, while a bunch of solar panels quietly absorb the same sunlight, reducing the household's energy costs! It's all about Nature here…
Organic materials assume the main role in interior finishing: local bluestone for the lounge pavement, floor-to-ceiling wooden windows and also wood panels for the bedroom walls and ceiling. A strip of roof lights run along the ceiling of the new ground floor layout, defining the boundary between the old and the new. An internal garden rests beneath this frame of light… like a symbolic spot for a domesticated piece of Mother Nature.