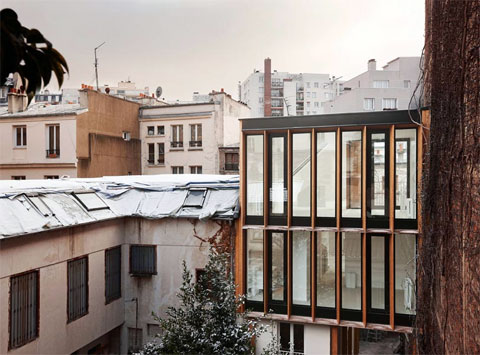 The project that I'm about to introduce you to is a testimony of transforming a problem into the starting point of an ingenious solution. In Paris, France, a small house with an area of 60 sq. m. (distributed on two levels) is situated in a backyard site with an exceptionally narrow area.
Enclosed and wet because of the existence of an underground aqueduct, the building is covered in darkness as the nearby buildings and a 20 meters high wall cover any possibility of natural light. So the challenge was to bring this house from darkness to light.
The look for light lead the project's design: gaining height over the ancient construction to the maximum volume of capacity while respecting a low budget became the main goal. Living rooms were placed on the top floors, adding a two floor area to the existing two floors.
The condition of the existing structure required the use of a lightweight wooden structure to serve as the new home extension. This new skeleton stands visible in all facades, like a proudly manifest of hope to all small houses who suffer from similar circumstances!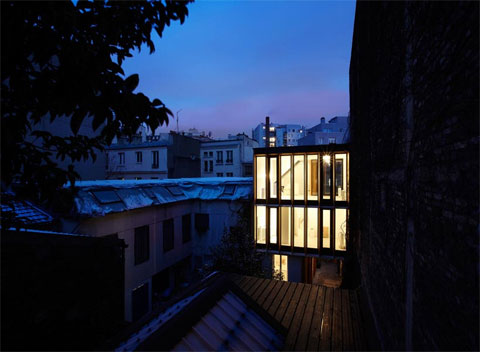 Structural elements are displayed every 80 cm, merged with a full height volume of glass for maximum natural light. All interior surfaces, from top to bottom, are painted white, enhancing natural light and creating brighter living spaces – a poetic architectural conversion turned a small dark house into a source of light…