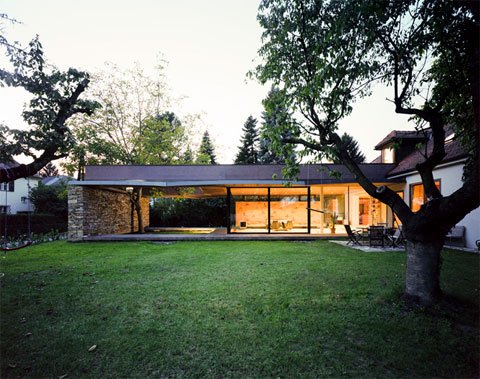 An enclosed garden for a living room, framing an ancient walnut tree as a beautiful picture in order to be appreciated from the sofa – Isn't this an inspirational place to live?
In Graz, Austria a small extension turned a suburban house into a much brighter home. Villa SK benefits now from the attachment of a new glass box addition that serves as an exquisite living room.
Although the limited budget (previously reserved for the total rebuild of the existing house) the solution was focused on a different approach: to offer a more direct connection between the house and the existent garden. So, an opposite attitude towards the opaque and closed building was adopted. A glass transparent box assumes the heart of this new whole!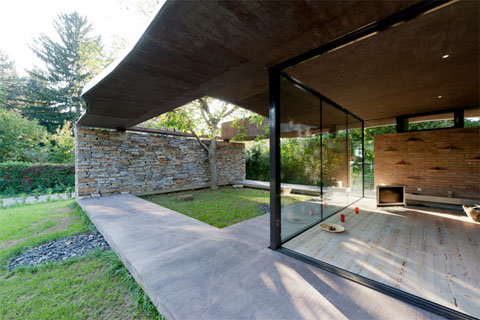 However, what transforms this small house extension in something unusual are the multiple combinations of several materials: concrete, glass, brick, wood and stone. A concrete floor wraps around the glass box with full-height windows and leads to a square patio with a walnut tree.
Two giant steel beams mark out the concrete roof structure which can be accessed from the first floor of the existent house and used as a terrace for sunny days. One side of the new living area is defined by a colorful brick wall contrasting with the large glass panels that constantly invites us to step into the garden… A wooden pavement gently receives our steps inside the living room while a remarkable stone wall punctuates the end of the extension volume. Definitely, a new house is reborn…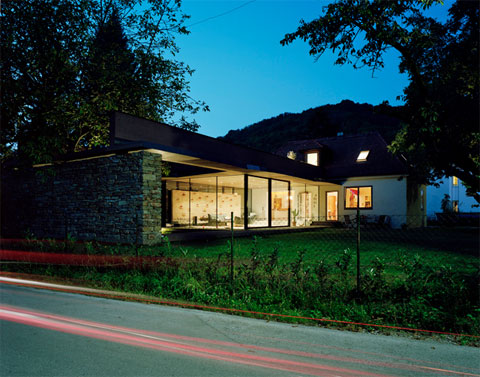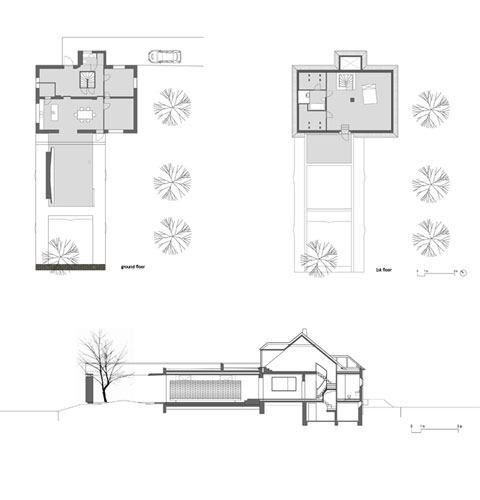 Photography: Lukas Schaller.