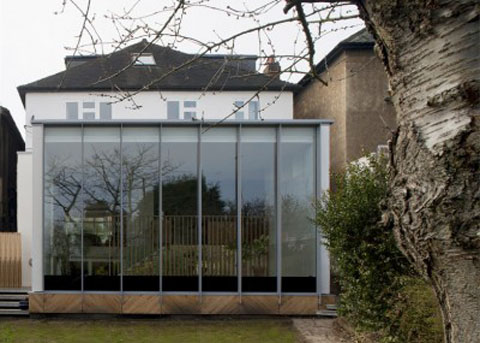 When the light strikes over the deepest darkness… Guidance and clearness stand as the most precious values of light even in the architectonic phenomenon! The Orangery testifies such a noble act of liberation. A south London house was "exorcized" from a darken condition that once had turned it into a heavy gloomy place to live.
A new small extension with a total area of 56 sq. m. brought some enlightenment to all its inhabitants! How? In a very distinct way…
The 1930s house was originally built on sloping ground which left the social areas at the back hanging one story over the garden. In order to draw light into the lower levels and to expand the interior space of the house an extension was developed, in the style of an orangery with double-height windows.
This new volume assumes the role of a lantern, providing illumination and also a splendid view of the backyard (unavailable on the previous house configuration). Inside this transparent volume a wooden staircase is bordered by a screen of vertical pieces of oak which mirrors the steel frames of the glazed facade.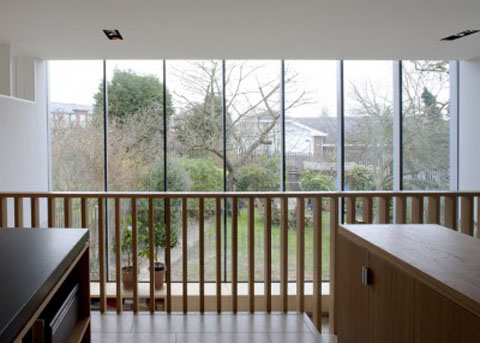 A glass balustrade has been strategically positioned on the other side of the stairs, allowing light to reach into the rooms behind it. As you can see, light assumes the main role in this brilliant concept design…So small and yet so powerful!
White painted walls and ceilings enhance the natural illumination while an unusual double-height white door invites us to step into the back garden. A place where inhabitants can gladly appreciate the beauty behind the clouds of London's sky…