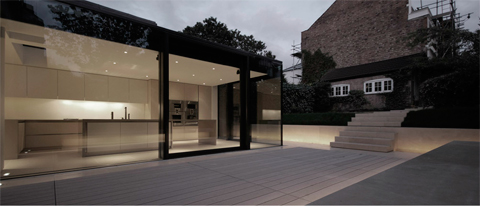 The typical Victorian terraced houses in England were built in brick with slate roofs, stone details and modest decoration. Generally built in terraces or as detached houses, this characteristic type of historic architecture was so remarkable and efficient that it influenced the design of the entire British Empire from London to Australia!
The Rear House Extension is a replacement of an existing extension made in the 1980s of a Victorian Semi-detached terraced house in North London.
Once again, different eras are gathered in one compact building! Only a small social program is placed in this new addition: kitchen and dining room…The garden works as the attraction point to this small house extension in order to achieve a softer and more direct relation between interior and exterior.
Brick assumes the main language of the Victorian building while glass and metal structure composes the new construction. It's a balance between light and heavy weight materials, where an ancient body and a modern skeleton become a new whole…
An exposed steel structure is covered in a curtain wall system to preserve a perfect insulation and also to avoid any possible cold bridge. A wooden terrace kindly invites us to step outside to enjoy a sunny afternoon. The green roof is Eco friendly resulting as a fragment of the ancient garden. The outcome reveals the desire to claim back the space taken over by construction on the roof.
* More info at LBMV Architects