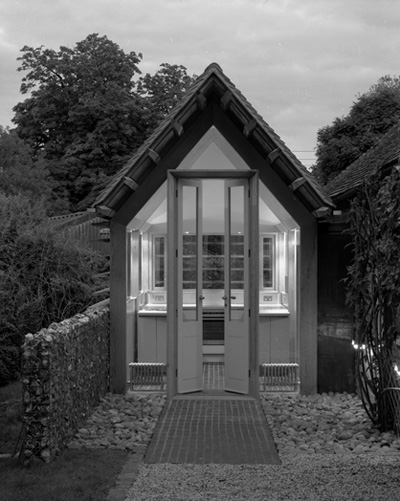 This time I'm going to tell you about a small building… well, not sure if building is the right word for this sweet, tiny home extension. However, let's see – it has doors, windows, a full-scale double-pitched roof, and oozing with English charm.. So yes: it IS a building!
The Flinthouse is an annex of a private house, situated in Wiltshire, England. The private house is, however, a bit tricky: it is a self-contained wing of the 18th century manor house! So, the task of designing an extension for such an object was not an easy one. All the more so, as the client wanted the kitchen (!) to be located in the new addition.
The first decisions about the project was to make the annex look like – as they describe it themselves – "the archetype of a house". The idea here was that this "primitive hut" concept would strengthen the independence of the wing as an autonomous residential house.
The structure of the hut is made of cedar frame. The west elevation is fully glazed, and the door frame, settled into the glass facade, makes this small house look even more toy-like and adorable. This impression is emphasized by the flint stones of different scales, which not only cover the footpath leading to the annex, but are also used as a material of the decorative fencing. Fascinating!