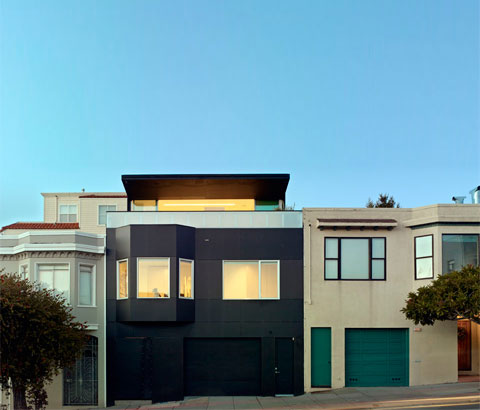 20th Street Residence in San Francisco is an elegant remodel and upward expansion of a derelict home. Ingenious solutions were developed in order to respond efficiently to the client's needs, such as a unique metal bridge at its entrance and a facade that folds open. Very unusual for a domestic project, don't you agree? Well, let me introduce you to this unique new house extension.
Restricted laws didn't allow a free adaptation of the existent house, so a rooftop living room was designed in order to offer residents a view over the San Francisco bay. The new addition has the shape of a big black box. Black was chosen to set it apart from its white and cream-colored neighbors.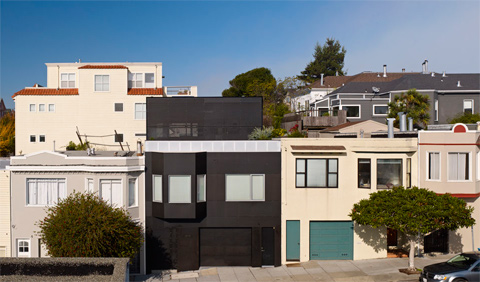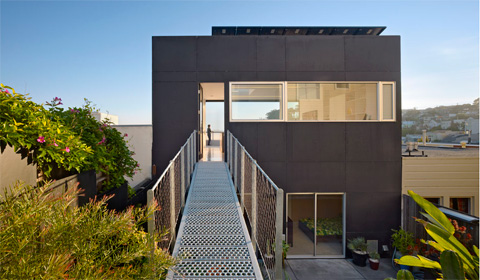 This exquisite box is composed by a perforated screen that folds down over the south-facing facade to prevent overheating during the day. Technology is brightly present on the operable metallic sunshade cleverly perforated with tiny holes.
A small kitchen and dining area are positioned in this black box, expanding their functions into a generous roof deck facing the ocean… A wooden staircase provides a path down to the rooms on the first floor, while the metal bridge stretches back to gather a patio that steps down to the same level.
Raw materials complete the atmosphere of this new born building: wooden surfaces combined with white painted ceilings while PSL beams were used for connecting the old structure with the new…