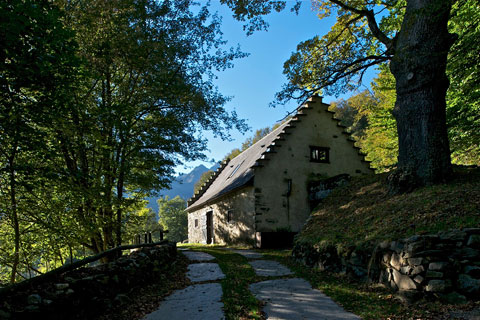 The most ambitious challenges in architecture always capture our heart and soul…In Switzerland a unique conversion demonstrates great respect for the existing vernacular architecture and great sensitivity to its rural settings, preserving the authenticity and exclusive spirit of the site.
To achieve such an honorable task, an ingenious design was carefully developed in order to obtain a certain aspect of invisibility… How? Let's enter the village of Lesponne – in the mountainous region of the Hautes-Pyrenees – to examine an outstanding new extension of an old barn.
A sensible topographical approach determined the shape and form of the new program: the design explores the concept of partially buried living spaces respecting the tradition for setting mountain shelters against the slope of a hillside. The extension is positioned in the southern portion of the site where stunning views across the valley and mountain tops are waiting to be appreciated.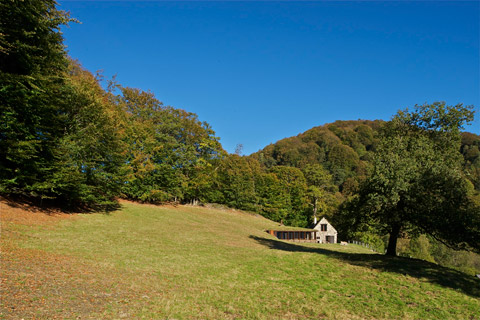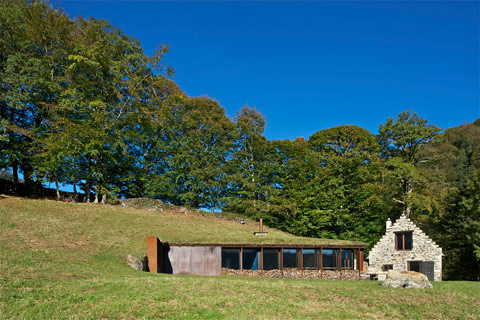 An exterior living space and a sheltered terrace area complete the program of this wonderful conversion. But the best is yet to come: remember the invisibility factor previously mentioned? Simple and powerful: the visible portion of the extension – the facade – first appears to be a simple log store, and only then goes on to expose the living spaces which open up below the mountain slope.
The log store is composed by a Corten steel structure which incorporates access to the interior, provided at given points along the glazed wall. A dry stone wall – similar to those used as retaining walls in the surrounding area – marks the extension's rear elevation against the slope and stick out along the exterior terrace… What a fine place to quietly enjoy a warm sunny afternoon!