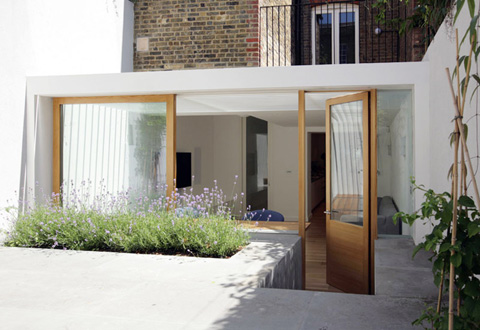 To preserve the secret intimacy of a Victorian house garden – This was the main purpose behind the project that I'm about to show you. In London, UK a discrete house extension was developed in order to create a sense of unity between the exterior garden and the original house.
The new design extends and opens up the basement level to the backyard space. What changed with this tiny gesture? In the beginning, the garden's view was very limited and the only possibility to reach it was through a utility room located between the basement and the ground floor. By excavating and pushing back the basement, a new lounge space merges with the garden, providing a dynamic background to the conventionally dark space through a completely glazed wall.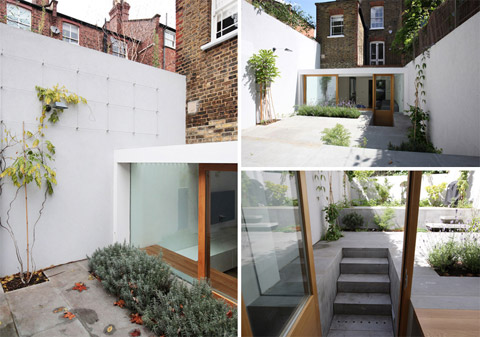 Moreover, the garden's floor level is slightly raised from the basement featuring a concrete terrace perfect for outdoor seating and planting. A wooden bar table extends the garden's floor level into the interior space where timber shading placed above it supplies additional sunlight to the basement level.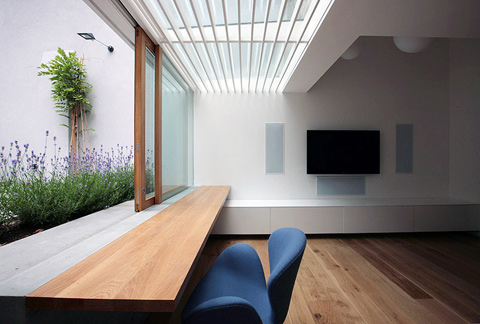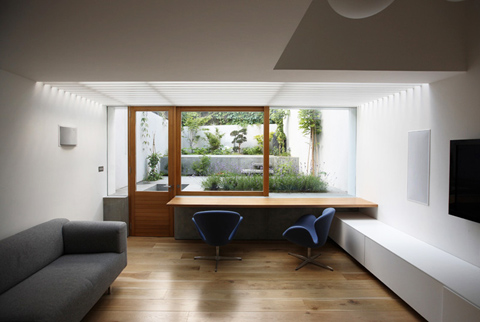 The new kitchen and cabinetry are painted in white to make best use of the daylight while the wood flooring invokes the organic mood that irradiates from the colorful garden plants. An unusual tectonic dialogue is established between the old brick pattern of the Victorian house and the concrete walls of the new extension. The ancient garden seems to enjoy its new companion: a contemporary gentle wind of fresh air seems to flow in this updated Victorian building.