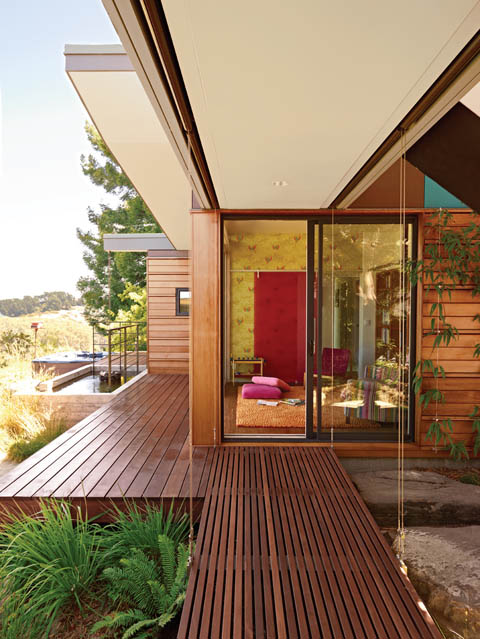 A house extension with butterfly wings…Isn't this something truly innovative and fresh? In Berkeley, California there's a prefab building that captures the essence of two related worlds: an existing 1950's house and its unique surrounding environment. In order to preserve the existing atmosphere designed by a popular landscape architect some cautions were taken as guidelines for the new house extension: two new structures and a recast landscape, all balanced with the original residence.
The domestic program suffered some significant – yet undamaged – changes. The old house conceals an updated kitchen and an enormous social area – living and dining room – that could extend into the outside to a magnificent deck.
Exterior footbridges lead inhabitants to a new sleeping pavilion: two prefabricated rectangular volumes are now standing beneath a butterfly roof half clad with solar panels. Four bedrooms and a small library compose this new layout extension that's also complete with an outdoor tearoom and a porch, both strongly bonded with the new landscape design.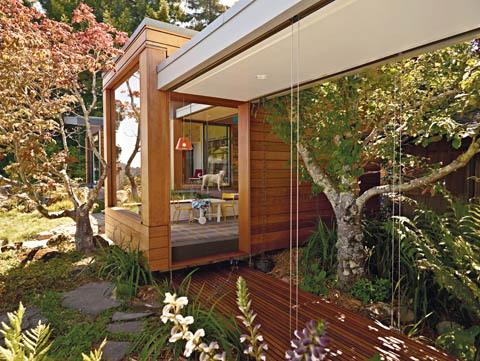 Let's unravel the anatomy of this modern prefab: wood was the chosen material for the most of the architectural solutions; the skeleton structure behind the prefabricated wooden panels was conceived in a workshop along with the butterfly roof system. Sliding windows were the ideal solution for a set and connect wall process extremely flexible and simple to install. Actually – believe it or not – this magical extension was erected in just five days… Gotta love prefab!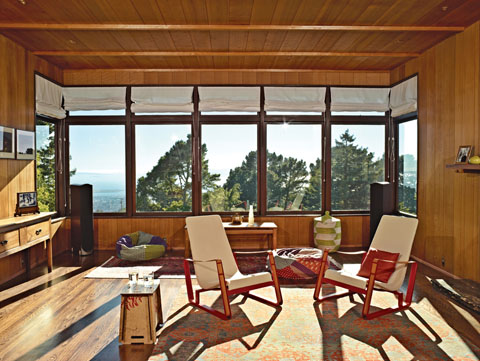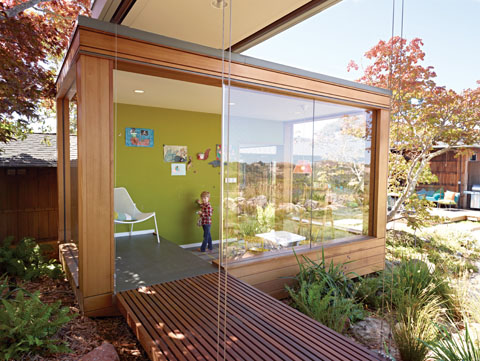 Architects: Benjamin Parco, Kate Simonen, Phil Kaefer
Photography: Caren Alpert