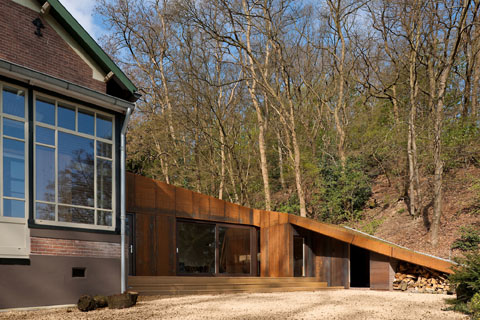 When architecture follows landscape, the result can only be excellent and unexceptionable. In Nijmegen, Netherlands there's a house extension that respects the close relation between an ancient house and a hill. A single story addition with 49sqm establishes the missing umbilical connection involving these two distinct moments: landscape and architecture.
An L-shaped plan organizes the additional program: a living and a study room are now an active part of a new spatial equation. The house extension works as a retaining wall, allowing a roof garden to absorb the entire volume. In fact, the facade literally grows from the ground standing totally covered in Corten steel: only a few openings punctuate this rusty element that contributes to a silent blend within the landscape.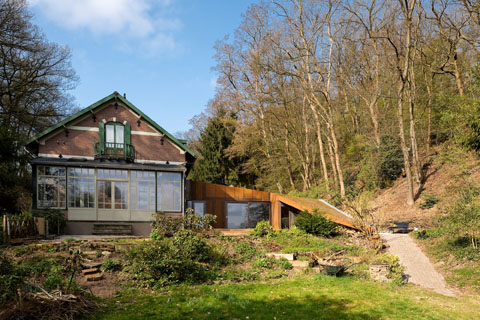 The gentle slope of the hill determined an irregular L-shaped plan: this particular detail also created a marvelous patio that works as the daily entrance area for inhabitants. The interior reflects the sloped green roof by assuming the different heights on the ceiling. An immaculate white color covers most of the walls and ceiling, contrasting with the dark-polished concrete flooring.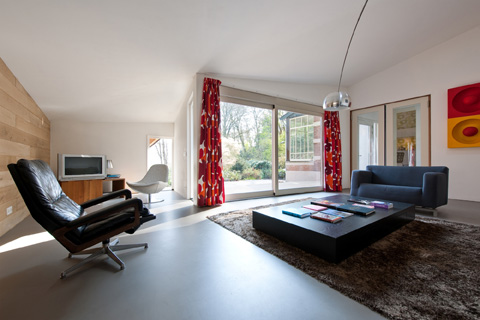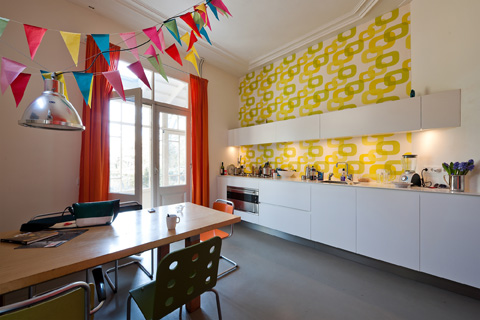 A panoramic sliding window tempts anyone to enjoy the everlasting landscape that surrounds the house while a rectangular opening frames a closer view of the trees. A small area on the corner of the open space provides privacy for work, benefiting from an exclusive glazed door that opens to an exterior covered space. All this precious details transform this home extension into something exquisite and rare… only possible when architecture follows landscape.
Architects: BLAUW Architecten
Photography: Jan de Vries
Link: http://www.archdaily.com/332707/endless-blauw-architecten/