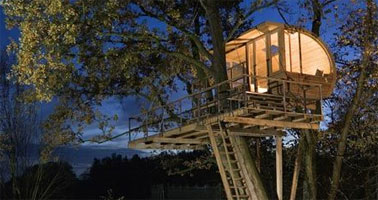 Building a tree house was always my life-long dream. The elevated feeling of standing on top of a tree branch, just like a bird contemplating where to go next, gazing at the horizon on breezy nights. That is why when i first saw Baumraum tree house (what a great name and logo design) – I could actually see how my tree house plan becoming a reality.
Baumraum specializes in the planning and realization of treehouses and other constructions in natural surroundings, while handling the trees and their surroundings with the utmost care, ensuring their protection and preservation. Baumraum are also promoting the tree house hotel idea where hotels will be able to offer unique accommodations to their guests among the foliage and blossoms. The company also offers seminars and workshops on how to build a tree house. What a great idea!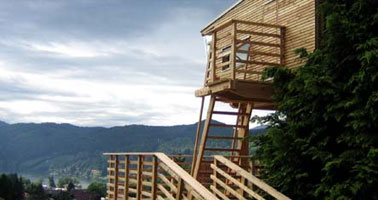 The Baumraum website portfolio is enchanting, providing beautiful pictures of different treehouse design and lots of information on the subject. As they say: "A promise of adventure for the kids, a retreat for the adults, a romantic hideaway close to nature." – To play, to work undisturbed, to relax, to daydream.
By the way, if you're into treehouses or tree house designs you might also be interested in:
Tree house sphere design
Tree houses resorts Wild Canopy Reserve