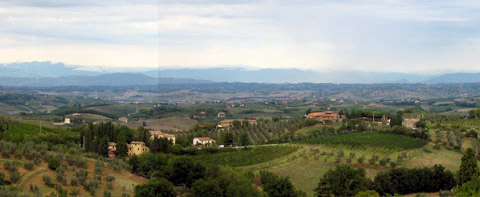 As I write about Tuscany, I can still hear the bells of San Gimignano tolling in the background while I walked the winding cobbled stone streets of this beautiful Tuscan hill town.
it's no surprise why the natural settings of the Tuscan region is so appealing for most people; relaxing in the Tuscan sun with a chilled glass of wine in hand, overlooking the sunny hillsides and vineyards; the scent of herbs engulfs a rustic stone farmhouse and wrought-iron gate, light fixtures and garden furniture, all overshadowed by Terracotta roof tiles.
How to create a Tuscan style home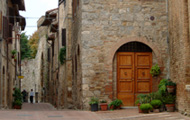 In Tuscany it is all about simplicity. Warm and inviting rooms offer comfort and relaxation, and natural motifs such as, herbs, garden flowers, sturdy hardwood furniture, natural cushions and fabrics create a warm welcoming environment complementing the picturesque landscapes.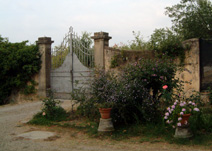 The doors leading to the garden are almost always open since a true Tuscan lifestyle must combine the interior design with its natural surroundings. Also, most of the cooking is done with natural growing materials such as tomatoes, basil, oregano, lettuce and all sorts of fresh vegetables.
A Tuscan home should look as if it stood the test of time. It needs to have a history as if it has been passed around the family for generations. Therefore, the furniture and all house elements should never look modern. For example, try using an antique armoire for clothes and linens storage – go for the antique style, anything that looks like it has been there for years.
Imagine waking up in the morning, opening your bedroom's rustic wooden shutters to see the sun come up the Tuscan hills while a cool breeze flowing into the room waving transparent light creamy curtains.

Use natural colors such as, Terracotta, brick, ocher, greens, and golden yellow; keep wooden surfaces, such as cupboards, door and window frames, shutters or wooden beams ceilings as natural as possible; use soft white as wall color, keeping the walls neutral while playing the perfect background for exquisite indoors features and motifs.
Use flooring of wide wood planks, timber boards, rough stone, unevenly-colored terracotta bricks, or clay tiles and as a colorful addition to any room, I highly recommend using earth-toned natural-colored antique rugs; be sure to use a long family-style wooden table in your Tuscan style kitchen; present ceramic dishes and pottery in open shelves and free-standing cupboards featuring chicken wires as door fronts; place a natural stone or porcelain kitchen sink and for the stove area install a copper range hood surrounded by tiles.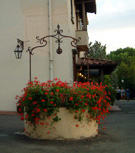 If you're looking for simple touches to represent the unique interior design of Tuscany, try copper pots from a wrought iron rack, terracotta containers for storage, pasta in glass jars, a braid of onions or garlic, jars of olives, and flowers.
To complete your Tuscan style you should consider featuring a water fountain as the main focal point of a stone-paved central courtyard surrounded by wild growing greenery, tall cypress trees and scattered marble statues as a tribute for the natural surroundings of this gorgeous Italian region and its picturesque landscapes.