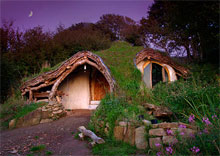 This amazing Hobbit house in Wales belongs to Simon Dale and his family. This is a truly green house; after four months and £3000 they moved into this Hobbit house which they built themselves from natural materials, keeping maximum regard for the environment.
This Hobbit house has been dug into a hillside for low visual impact and shelter. It's made out of stone, mud, straw bales and wood.

This green home has a fridge which is cooled by air coming underground while the roof skylight lets in natural feeling light. Solar panels are being used for lighting, music and computing while water is attained by gravity from a nearby spring. This Hobbit house green home has been maticulasly planed.
"This kind of building is accessible to anyone" says Simon Dale. All i know is if i had a hammer, chainsaw and 1 inch chisel, I'm not sure it will be enough for me to create this dreamy Lord of the Ring home, but i do respect and am quite in owe of Dale's self belief and perseverance.
All i can say is: Wow.

By the way, if you're into solar power or eco-friendly green homes design you might also be interested in:
Outdoor solar light MagicGlobe Solar Light Sphere
Algae biofuel Greenbox
I would love my own tree house
Studio Tord Boontje Petit Jardin Armchair
Sun Jar
Recharge your gadgets with Solio Solar Panels