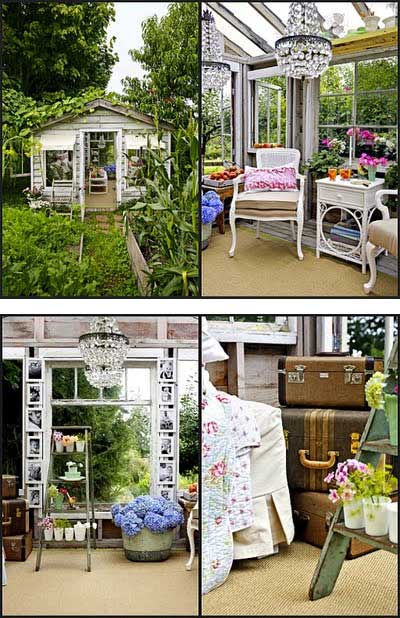 What once was a neglected potting shed turned into a gorgeous greenhouse. It's located on the property of Heather Cameron, a magazine stylist and story producer for home decor and gardening magazines. (…man, this sounds like a great job, doesn't it?). Her husband, Kevin rebuilt the shed as a wedding gift, focusing on the eleven windows he found at a salvage yard, adding panes of tempered glass on the roof to create a greenhouse.
This lovely 10 x 12 foot retreat had a makeover for a Country Living shoot. Take a look how attention to details, pure creativity and recycling ideas, completed with a lush, feminine touch, can turn a shed into an outdoor oasis; vintage-floral pillows and white-painted furniture were set up;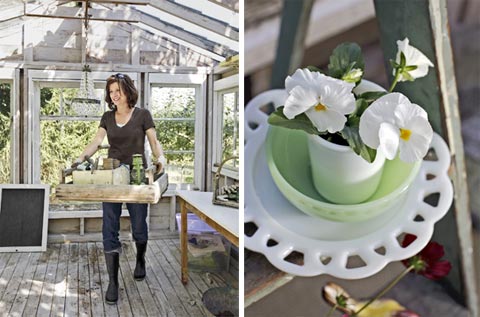 unique shelves were cut from an old door and placed on brackets, displaying collections of jadeite and milk glass vases;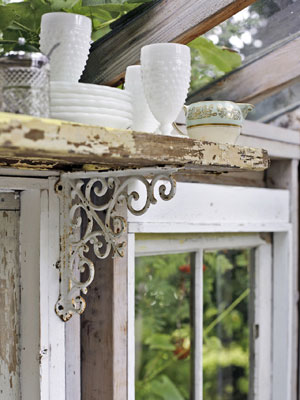 a tin bucket turns into a rustic sink when hung from a spigot; vintage luggage stacks up for an end table; and an old ladder becomes an inspired display for cups and vases filled with blooms from Heather's garden.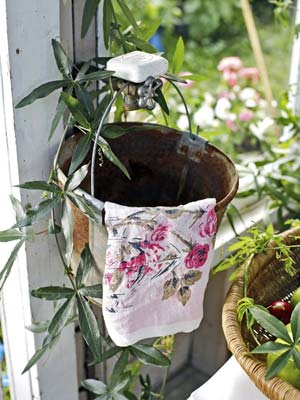 As an avid gardener I cannot overlook the sheer beauty created by tubs of hydrangeas, fresh-picked peaches, and window boxes filled with begonias and dahlias.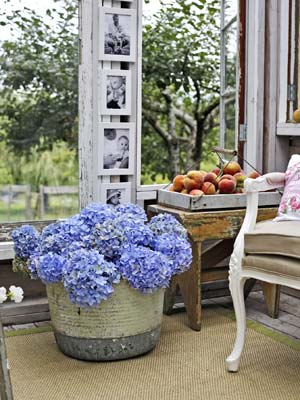 The chandeliers, by the way, are just for show – not wired or anything – but they do add a glamorous touch.