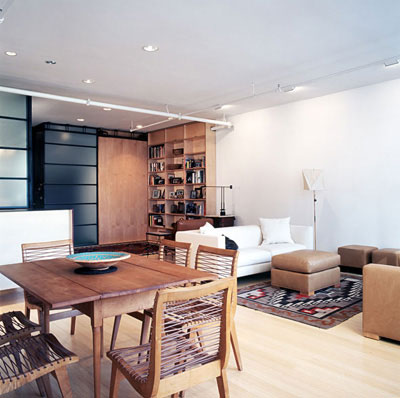 This 2000 sq. ft. New York loft space is owned by a fashion designer. As opposed to the more common industrial loft design, this one has a warm and natural feel to it. A mid-century style industrial glazing system, combined with a mix of unusual materials, set the tone throughout the apartment.
Translucent glass brings light into the entry area, where a slate floor makes room for a small patch of live grass that takes advantage of the natural light.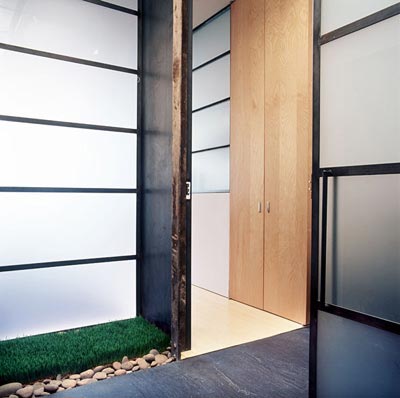 The kitchen is open to the living/dining area on one side, while on the other is hidden via a paneled glazing enclosure. This is a smart solution if you are looking to create an open entertaining space, but still to control views and smells from affecting the entire space.
Through the use of unusual materials and smart planning, the kitchen space is both flexible and interesting, almost as if it has been created by a combination of units. The subtle shift between different materials, translucence and surface qualities engage the viewer in different ways depending on position and lighting.
Mounted on rollers, a storage unit/bar can be shifted easily, opening up the kitchen, extending the living space and allowing different configurations for entertaining.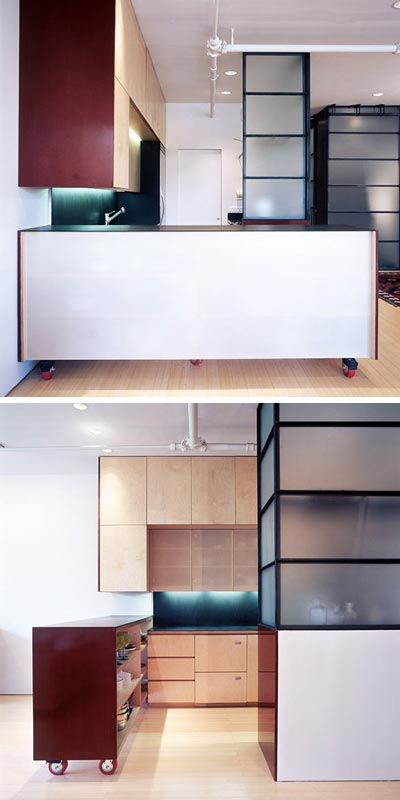 In the living/dining space, sliding plywood doors on found antique rollers hide the stereo and multimedia equipment. This is such a smart and simple solution that can be applied to almost any large storage area – definitely one of my favorites.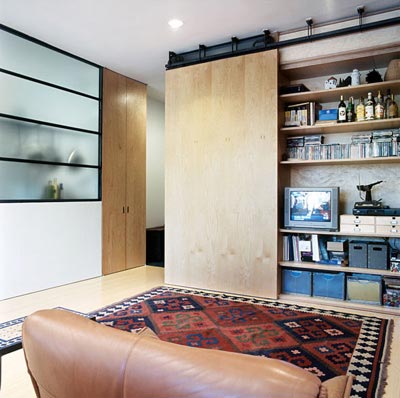 Linking the public area to the private bedroom/bathroom area is an open corridor with a series of spaces. The areas, serving as a home office and guest accommodation, are separated by sliding or pivoting panels in a variety of translucent materials including fiberglass, woven leather and translucent glass.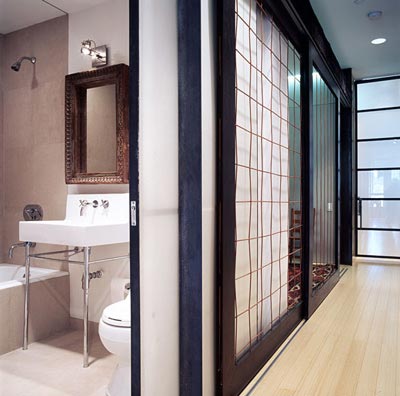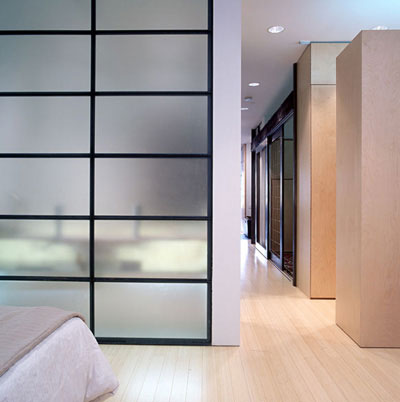 The master bedroom suite is kept simple and open, taking up the full width of the apartment on the southern side. A dressing area and master bath separate the bedroom from the rest of the space.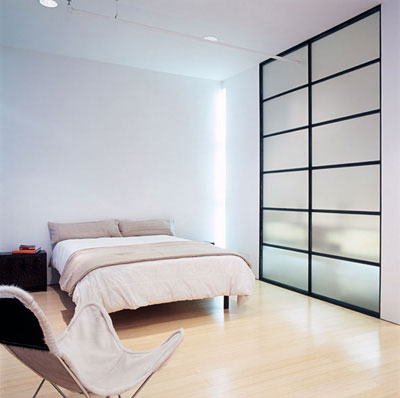 At first glance, the bathroom seems quite ordinary. However, if you linger you will notice a solid onyx sink, lit from below, and a bath tub area lined in solid Corian, almost like a bath room inside the bathroom.