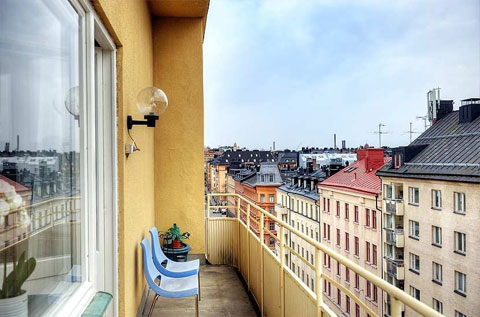 I know, I know, another Scandinavian apartment. But can they really help the fact that they're such a stylish bunch? I don't think so. Although the interior I'm sharing with you has an undeniably Swedish appeal, it also has a harder edge which is not so typical in the Scandinavian interiors we see so much of these days. It's also the main reason I think this place is special – it just has so much edge.
A muted interior color palette, cozy textures, light wood, elegant moulding and old fashioned corner wood stoves give this apartment its characteristic Scandinavian feel. But then add a worn, exposed red brick wall, industrial style furnishings and decor items, concrete counter tops and a set of turntables to the mix, and this place metamorphoses into something more crude, something with more edge. I like that.
The building to which this apartment belongs to was built in 1906. The interior was restored and original details were preserved. This gives the apartment so much charm. I love the mix of styles in this space – classic details, Scandinavian feel, industrial elements, raw details … they all blend together to give this place a distinctive feel. Plus, I'm a huge sucker for mosaics in the bathroom!