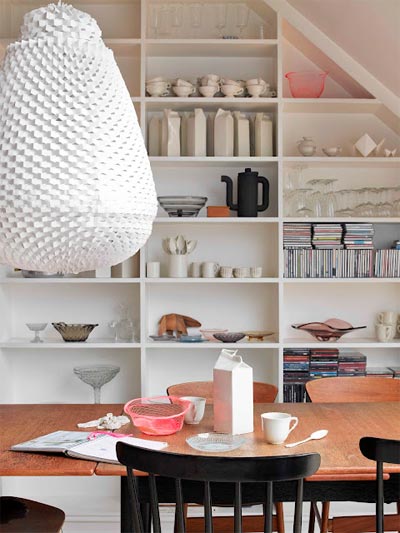 Welcome to the home of Norwegian based ceramic designer, Silje Aune Erikson. Besides having an inspiring Nordic style interior, this home surprises us with bold splashes of neon pink! Quite unusual, yet pretty exciting – it gives the home a unique quality. So unique in fact, that it was featured in the Norwegian Elle Decoration.
The basics are right in tune with my own interior design aesthetic – a neutral backdrop, clean lines, warm textures – but then, bang! Neon pink here, hot pink there and the place takes on a different personality. The bold pink accents are a hip and fun contrast to the calmness of the backdrop. Could you ever do something so bold?
I'm not sure hot pink is my color, but seeing this home made me think how easily pink could be substituted with another color. This home is the perfect tribute to the power of colorful accent pieces in a neutral home. And here's a great design tip for ya': You only need a few items – a stool, a dish towel, a pillow, a lamp – and you can generate a lot of impact in your interior scheme with only those items. Keep a second set of accent items in a different color in storage and change them out when the mood strikes or the seasons change. That's an easy way to give your interior a mini makeover.
* By the way, the wonderful suspension lamp you see in the living-dining space is the Grand/Petit Trianon by Artecnica.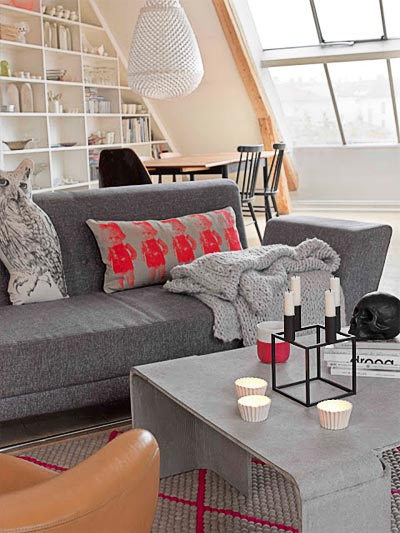 There are many reasons to admire this interior, besides the surprising pink accents. I'm in love with all the grey and white and wood. The built-in, slanted shelving is a wonderful use of space, the over sized pendant makes a stylish statement and the large windows let in a ton of natural light. What are you admiring most?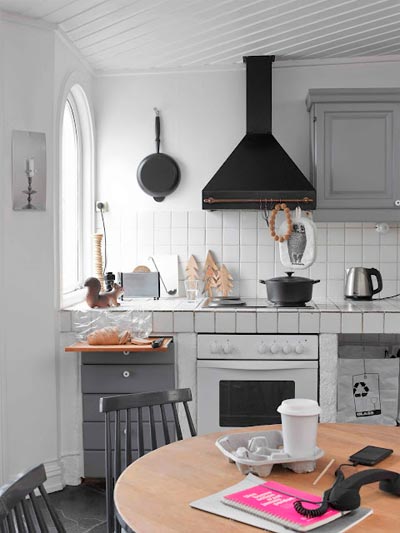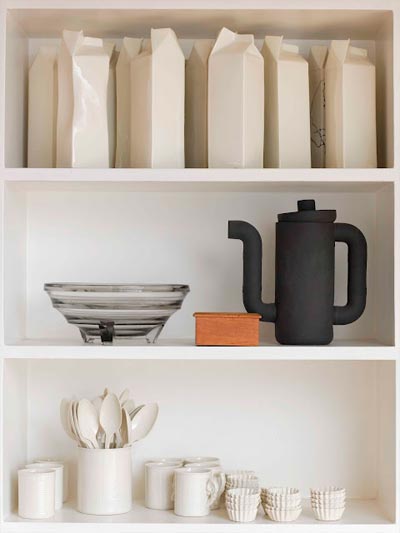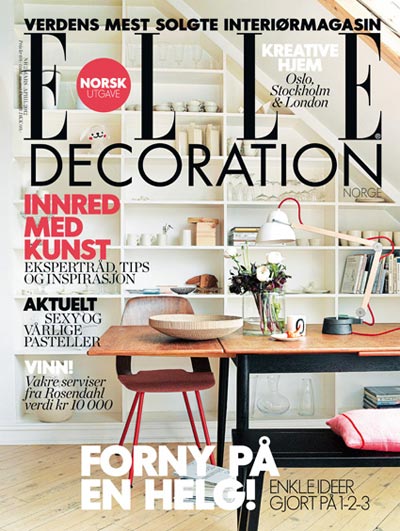 Photos by Trine Thorsen.
Styling by Kirsten Visdal.