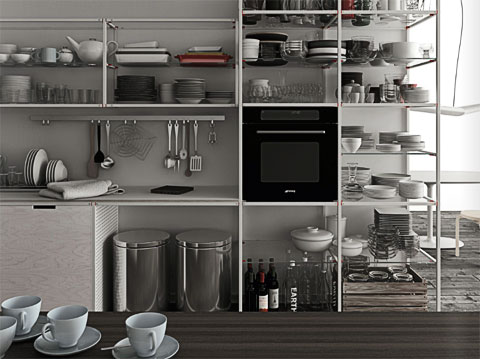 A design system that values recycling & reuse like no other before: too good to be true?
Perhaps not. In fact, Demode's Meccanica system engineered by Valcucine manufactures kitchen compartments with a light framework and an innovative design made up of single structural elements, connected together using mechanical joints. No glues are used, which means there is no trace of formaldehylde. Overall, a system designed to be user and environmentaly friendly, with the ability to be 90% reused and 100% recycled.
Here are some of the system's characteristics:
It is dismantled quite easy, addressing both the issues of moving an existing kitchen to a new place or recycling its parts when it is no longer in use. In the second case, the manufacturing company, with its life long responsibility guarantee, ensures to take the kitchen back at the end of its life cycle thus completely eliminating waste.
Now this is what I call full service thought to the very last detail.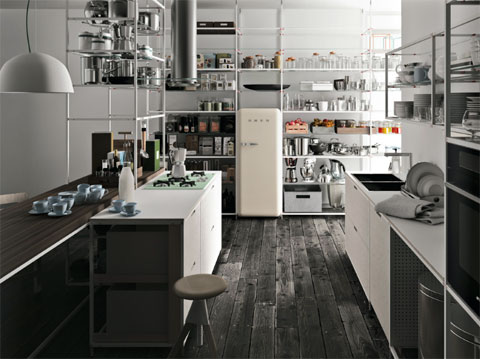 A fully customized kitchen system able to address the personal needs of every individual and every space, it is basically consisted of light shelves and generously sized drawers, which are fully heat and water resistant.
Specifically, all the materials used, from the metal and the fabrics for the doors, the multilayer wood of the worktops and doors and the laminate layered throughout its thickness of the worktops guarantee absolute resistance to steam, water and heat, ensuring a long technical and aesthetic life to the kitchen.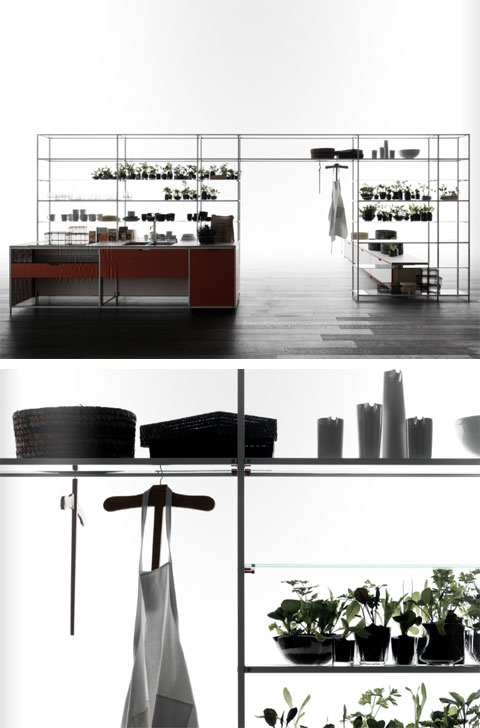 When it comes to assembling the desired customized kitchen together, Demode offers two possibilities for two different prices. One for a full service including assemblance and a reduced one for those who are eager to be creative while economizing by assembling it together themselves. Whichever the case, the packaging is minimal and transport is flat, making it easy to move.
Summing all points together, it seems that when designers create with an ecological spirit, everything is possible. Even combining high manufacturing quality with exquisite aesthetics, affordable prices and fully recycling capacity. A marvelous design system overall, which I'd be definitely considering.