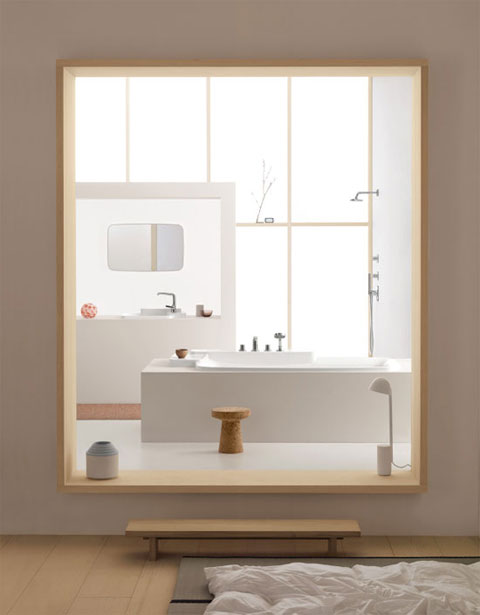 "Feel Free to Compose your Bathroom" – encourage us the brilliant French designers Ronan and Erwan Bouroullec! What a great moto to begin with!
Potential clients like you and me may express ourselves freely, while designing a bathroom "sur mesure" according to our individual taste and needs. Thanks to the wide range of products, surpassing the amount of 70, they have designed for their bathroom line Axor Bouroullec, one can decide on their own, how to combine individual elements such as washbasins, bathtubs, mixers, shower and shower systems, furniture and all kind of bath related accessories.
It is as if they let us take part in the creative process and allow us to paint on a canvas the image of our dreams, just being supportive enough to provide the colors and materials.
Just brilliant I'll say, like I so often do when designers and design itself totally win and fascinate me. The French designer duo loves clean lines and a sense of minimalism which though they have successfully managed to spice up by introducing lots of curves, there where we'd usually see corners and rough edges. A little feeling of pop and playfulness comes to my mind, emphasizing even more the anyway playful mood, by allowing endless combinations to be made.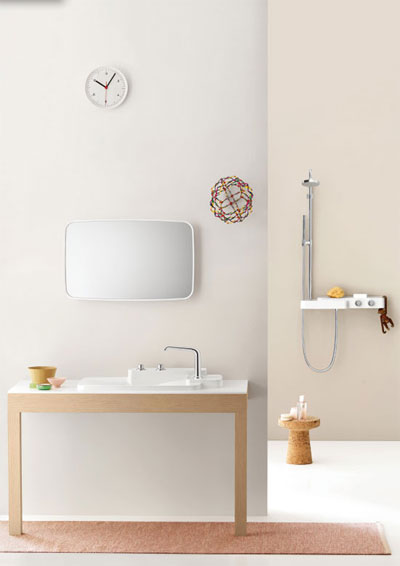 Noteworthy is that the mixers elements can be easily placed all around or even over the washbasin. Thanks to the placement areas that are integrated in it, there are also different opportunities and enough space provided to place your private utensils. Have you already started making your personal and most idyllic for you combination?