By this point, most bathtubs are just something you expect to see in any home or apartment. There's usually only a very focused use for them: to give you a space in which to bath and clean yourself. But bathtubs can be so much more, no matter how ridiculous that is to say.
Designed by Giovanna Talocci for Teuco, Seaside for the Bathroom is a bathtub more intense than you've ever seen. The neatly designed tub with two bowed and two straight sides is all about the hidden pleasure of a whirlpool tub.

While most whirlpool or "jacuzzi" bathtubs have big, broad jets punching out of the sides, the Seaside's jets conform to the tub and recede into the walls. Only a few slits are the indicators of whirlpool jets, not some big nozzle sticking out. Even the taps that pour water into the tub are concealed.
For some seriously technologically massaging, the Seaside using ultrasound technology to make the therapeutic movement of the whirlpool jets penetrate even deeper in the skin. I told you there's more to a tub than you think. The Seaside even features colorful lights that create wonderful hues in the water while you wash.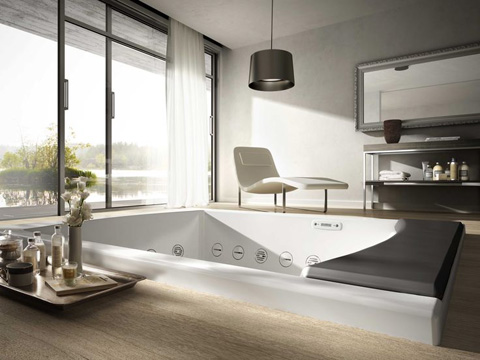 Photography courtesy of teuco.