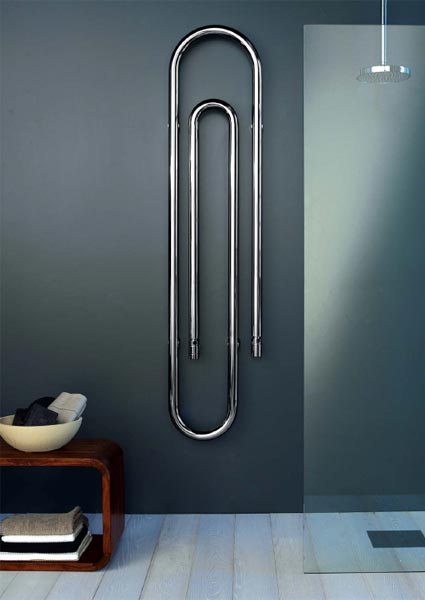 It should only take a glance to realize that while looking at the Grafe towel warmer of Scirocco's design collection, a strong correlation to office supplies and going back to school inevitably happens. What is a giant metal paper clip doing vertically or horizontally placed on the walls of our bathrooms? Well, warming our towels while looking smart, attractive and fun!
The designers of the well known and successful Italian company Scirocco drew their inspiration from Pop art and the expansion of the shape of objects of daily use. A tone of humor is always welcome. When done in a way that design meets function excellently, then it is more than simply welcome. It is desired.
Scirocco's design collection aims exactly at that: to design and produce objects so beautiful, that everyone wishes to incorporate them into their living environments. Clearly, the design of Grafe addresses those with a soft spot for modernity and uniqueness.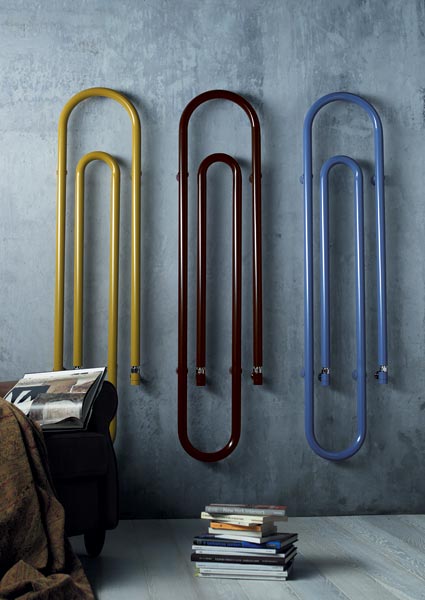 Available in a rather rich color range, according to the catalog provided by the company, these towel warmers come in a polished or a matt finishing. The color variations of the matt finishing really meet my personal taste, as much as my preference for the calmness matt surfaces offer. However, the classic, shiny chrome version looks timeless and easy to combine.
In terms of wall adjustment, I'd say that I find the vertical one to be more practical, taken into consideration that bathrooms are still, quite often places with limited space. Design speaking, the horizontal adjustment somehow seems to fulfill perfectly one of the design's aim, reminding us of a super large metal paper clip!