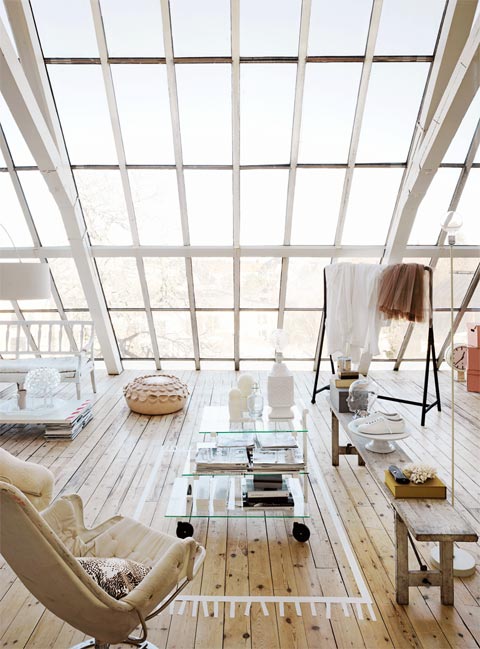 Spaces with an abundance of natural light are every stylist's and interior photographer's dream. For super talented Swedish interior designer Lanna Lagerman and photographer Philip Karlberg creating these styled series in the beyond gorgeous loft space you see here was a dream come true.
Published in Elle Interior, their work has been catching the attention of every design oriented person, interior styling lover or simply admirers of all things beautiful. This might not be the first time you encounter these photographs on line, but to me, they are worthy every single time one discusses them and sets an eye on them.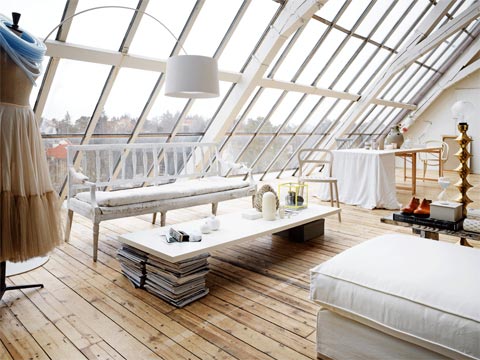 I cannot help noticing the fine work Nanna has done, while the more I look at the photos, the more I discover details which lead me to possibly understand her secrets in creating such blissful environments. To begin with, the space itself take breaths away with its extra high ceiling / full glass sliding roof, allowing for tones of natural light to bath everything, bringing out the best of their color and texture qualities.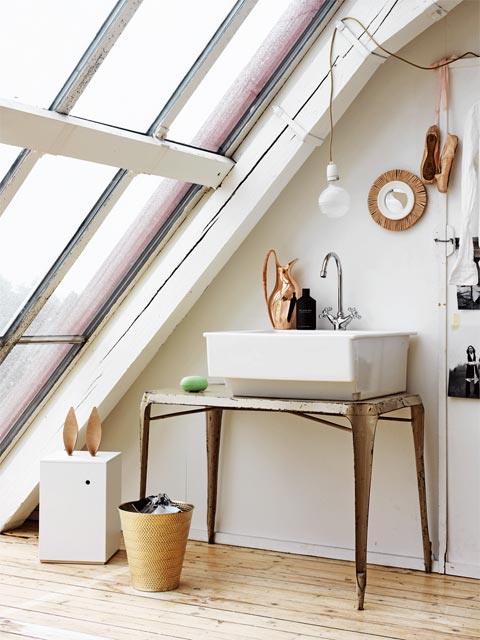 Choosing such a magnificent place for a canvas, one must not wonder about the inspirational styling that was put together! A light and joyous atmosphere, with a hint of chic humor, ingenious ideas like the illustrated out of tape carpets, piles of magazines serving as table legs with surfaces straight from Ikea, white, earthy pastels, beige and powder pinks, refreshing hints of mustard yellow and aqua blue here and there, unconventional ideas like the pillows hang above the bed, this work is a tender marriage of minimalism, sexy girlishness, vintage glamor and last but not least, easy living. Are you as well as infatuated as I am? What charms you the most? Would you adapt some styling ideas in your living environments?