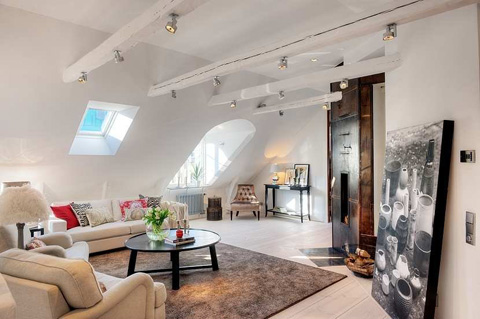 I'm completely smitten by the charm and style of Sweden. Crisp white uncluttered spaces are tucked under romantic roof lines and windows are added where ever humanly possible. These are all true here in this bright and airy three bedroom loft in the central district of Stockholm.
Light bounces off the curves and angles, gets reflected in the metal fire front and coffee table, and floats through room-defining glass shelves. The large spaces never seem too large though they can certainly accommodate all of your friends. On a sunny day you can trickle on to the balcony, fitted up for reading under a wide cable knit throw if it's chilly.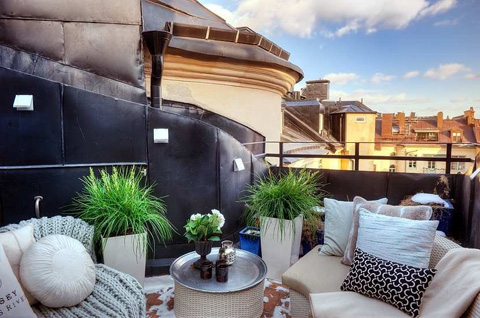 Wide plank wood floors unify the loft whose overall style is comfort. Each area – living, dining, reading nook – wears its own distinct carpet. I love the personality of each area and the options to choose from. Personally I'll be in the silver slipper chair under the enormous window arch.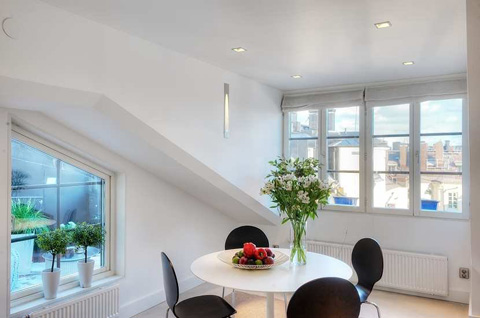 In the main bedroom suite the vaulted ceilings are dramatic. Custom wood wardrobes tuck in to the roof line. Drift in to the octagonal niche to meditate or bring in your favorite book. Dark tile and wood wrap around you in the main bath and glass doors virtually disappear. Who wouldn't love a glass counter held by a sleek stainless sink?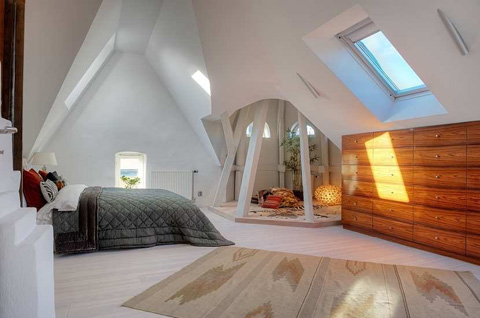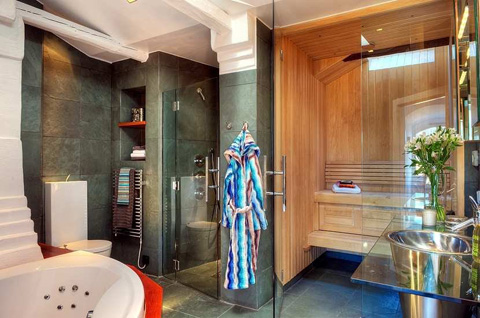 The guest room drama starts with the roof lines and continues with an industrial desk and a super plush day bed. Flooded with light, the room is softened by the dark graphic rug.