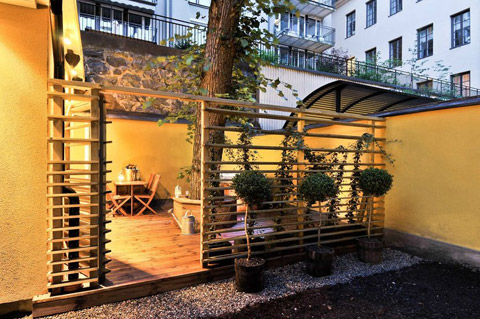 You may not guess that this sleek bright home is in the center of one of Stockholm's most populated districts. I picture the owners as stylish, confident, and easy going. They have impeccable taste and know how to maximize space and light. And as is so often the case in great design, it looks effortless!
Blonde wood floors in enviable width bring warmth and unity through this two bedroom home. There's a sophisticated balance of matte, glossy, and polished between the soft white walls, lacquered cabinets, gleaming dining table. Philippe Starck's crystalline Ghost chairs and a clear side table have a visual lightness. Notice how the subtle veining of the marble counter and back splash is reflected in the essential items peeking out of the nook. I bet if you open the cabinets every item inside is casually but precisely arranged as well!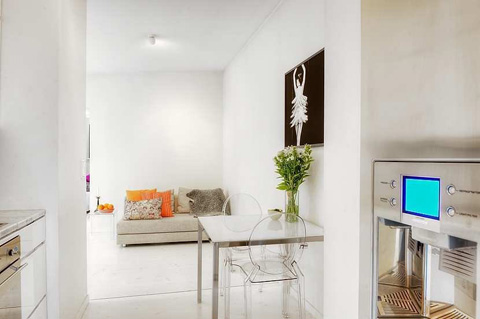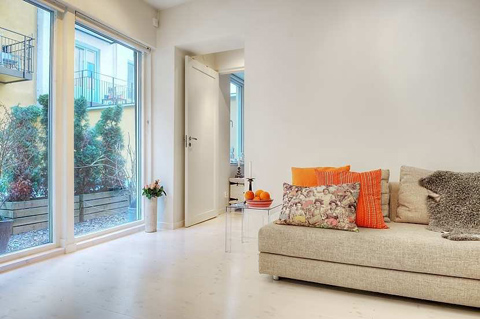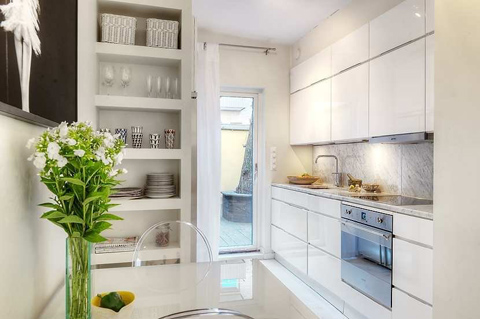 The bath exemplifies no-fuss detailing with its large scale glossy white tiles and a splash of marble adds texture and movement. The roof lines create a perfect play house for the lucky child who dreams in this room.
Throughout the home subtle textures support pops of rich color. Yet the inviting linen sofa can hardly compete with a to-die-for terrace. The wood floors extend outside where you and your fortunate friends can enjoy a private dinner. Or enjoy a long soak in the tub behind topiary and a vine covered trellis.