Good design is music to my eyes. This symphony of elegance and hue variations is composed on a classical structure. Yet this Swedish family home is not stuck in the past. Building on the foundation of expanded and ornately trimmed ceilings and light flooded rooms, these beautiful interiors are finely tuned for today's living.
You're greeted by an arch filled spare lovely hard working entry with a classic Tolix chair to enjoy while kicking off your boots. Pure white rooms are supported by sassy wood floors in the living and dining areas and the two bedrooms.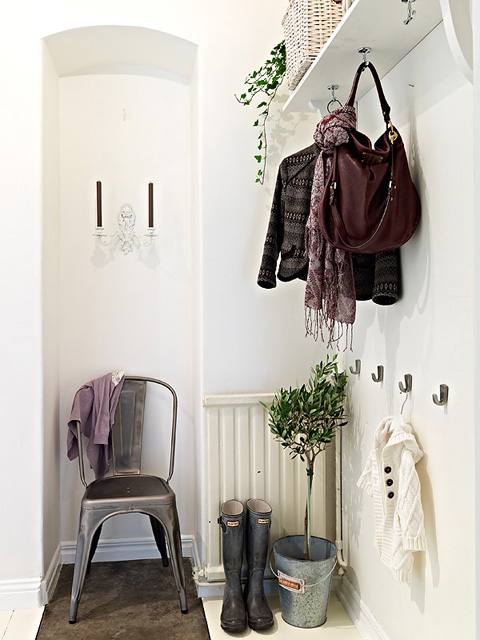 The living dining duo has a deep toned sofa and rug with staccato pops of color. A dreamy dining area is framed by billowy sky colored and sky high drapery. I love the patina of the vintage table and arm chairs and am completely smitten with the combination of these with the Eames Eiffel side chairs…genius!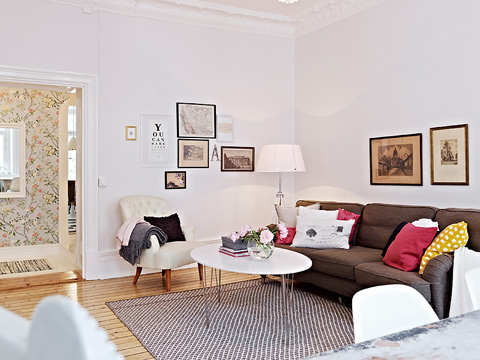 Floral and leafy notes grace an accent wall in the main bedroom, the corridor, and the definitively modern bath. Both bedrooms are bright with natural light and quirky light fixtures. The fluffy floating tulle light in the main bedroom is a giant leap from the ornate plaster molding from which it hovers. A tiny secret bright work nook plays off the bedroom. As a composition, this home is classic, timeless, modern, and harmonious.