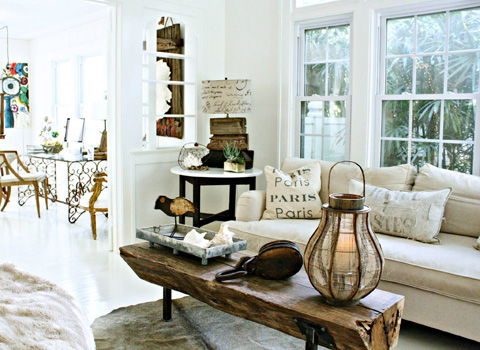 You're going to love this magical mingling of spirited elegant funky furniture and finishes and fixtures that enliven this Florida home. Nearly the home's entire interior is washed in white – walls, floors, ceilings. And the white makes a pristine background for the personality pieces that reside there. It's like an artsy group of friends got together, young and old, sparkly and demure, rough around the edges and polished.
The living room's chaise exposes its frame and burlap and provides cotton for you to lounge. A wooden beam with history rests on two hefty iron legs for its new role as a coffee table. A quirky wire and wood pendant lights the room when required after dark. And two enormous mirrors sit on opposite sides of the room. One is round, framed almost to be a bowl, and the other stands large on the floor, showing off its carved patina.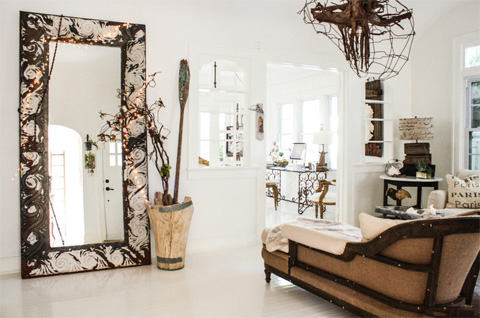 A grand silvered tree stump supports an abundant round glass slab for the dining table. Mismatched wood chairs, all with their finishes worn away, are brought together with thready linen covered seats and backs. Above hangs a pendant, worn and rusty steel, that surely was useful, though probably not as glamorous, in its previous life as well.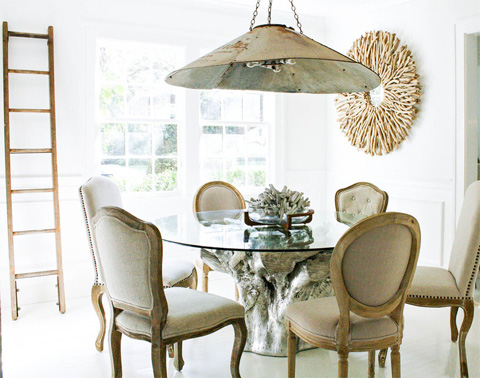 I dream of the beveled edge glass topped desk, with its scrolled iron base. Flanked by Louis XVI gilded arm chairs and antique French doors the room, and the home, is a brilliant mingling of styles.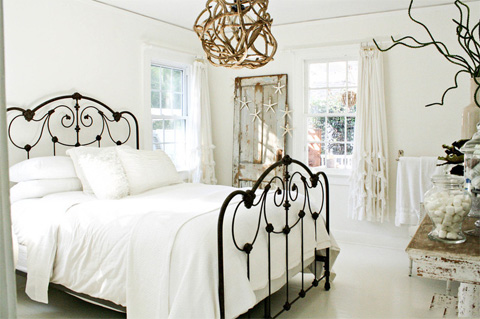 Photography: Mina Brinkey Via houzz